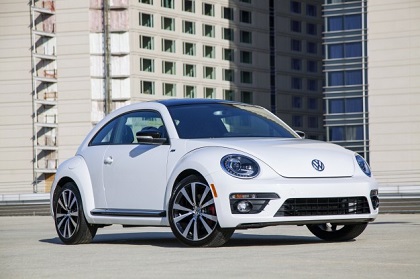 In the middle of the 1930s Adolf Hitler – leader of the Nazi Germany – ordered Ferdinand Porsche to create a new "car for the people". Thus the history of Volkswagen started.
Porsche began to construct the prototypes of the car. There were some main ideas – the conceptions of the future vehicle – that Porsche had to stick to while developing the car:
– max weight 650 kg,
– cruise speed of 100 km/h,
– air-cooled engine with 26 hp,
– fuel consumption 7 l per 100 km,
– cheap price.
Having gone through several stages of development (series "VW 3", "VW 30"), the first Volkswagen car was presented in 1938. It included all the features ordered by Hitler, the engine was placed at the rear of the car, and the shape of the car was quite specific – it was very round. That was the reason why it got its nickname "Beetle". An American reporter thought it looked like an insect, and so the "Beetle" was born.
History of the Beetle's Development
In 1939, Volkswagen GmbH was founded and registered. During WWII the factory produced military vehicles, but soon after the war the Volkswagen production was revived, and the car became popular in Europe. The great success started with the import of Beetles to Holland in 1947. As a result, production increased, and to remain in front of the competition, the car's design and mechanics got a few improvements:
* Through the years, the Beetle's engine volume grew from 985 cc in 1938 to 1498 cc in 1967.
* In the 1950s, the famous Beetle split screen was replaced by an oval window. However it didn't last long, because a bit later it was replaced by a larger, more rectangular window.
* By the end of the 1950s, the new interior of the Beetle was designed so that there was the opportunity to build in a radio and speakers on the dashboard.
* In the beginning of the 1960s, the Beetles got much better rear-light, and a fuel gauge.
* In 1967, when the Beetle got disc brakes at the front and a new bonnet, this model was and is recognized as one of the best Beetles ever made.
In the 1970, the other competitive branches got "too close on the Beetle's wheels" by introducing new modern models. Volkswagen also developed a few new models like Karmann-Ghia and Volkswagen Transporter. The Beetle got reshaped, becoming more wider and swollen. Even after getting a panoramic windscreen, the Beetle was no competitor to the new Volkswagen creation – VW Golf.
Nowadays the little VW "Beetle" is 80 years old, still is one of the most popular German cars, and is on the new wave of popularity!
Related articles:
Buying a New Car in Germany
Buying Used Car in Germany
German Cars
Importing Cars to Germany