December 25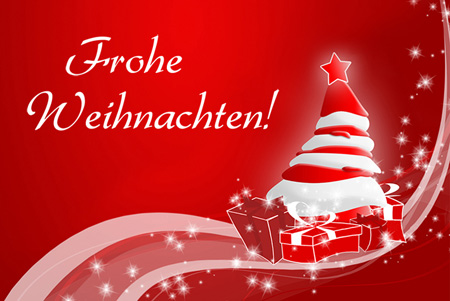 Christmas Day in Germany.
December 25, 800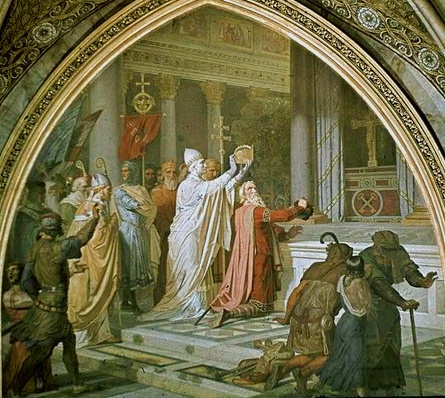 Karl der Große (Charlemagne) is crowned Emperor of the empire which would come to be called the Holy Roman Empire.
December 25, 1046
Enthronment of Suidiger (Pope Clement II), the second German pope. Suidiger had been the bishop of Bamberg. He was installed as pope by the German king, Heinrich III on December 25, 1046. There had been three rivals claiming the office of pope when Heinrich III arrived in Rome. He deposed all three and installed Suidiger as Clement II.) Clement II is most noted for his efforts to eliminate simony (the buying and selling of church offices). He convoked the council of Rome in 1047. He died in 1047. He was buried at Bamberg and is the only pope to be buried in Germany.
December 25, 1617
Birth of Christian Hofmann von Hofmannswaldau in Breslau, Silesia (now Poland). Hofmannswaldau was one of the leading poets of the Baroque period in German literature.
December 25, 1728
Birth of Johann Adam Hiller in Wendisch-Ossig, Germany. Hill was the creator of the "Singspiel", a form of operetta. Hiller conducted the Gewandhaus Orchestra (1771-85) and was cantor at the Church of St. Thomas (1789-1800) in Leipzig. Among his compositions are Die Liebe auf dem Lande and Die Jagd.
December 25, 1742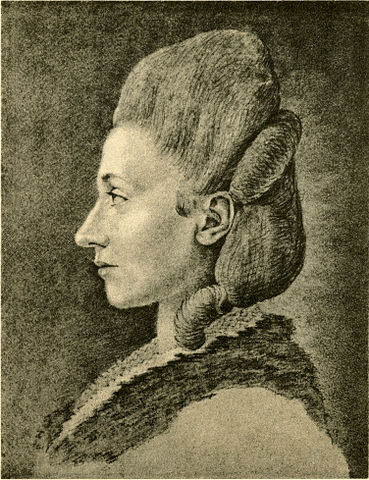 Birth of Frau Charlotte von Stein (1742-1827) in Eisenach, Germany. Von Stein was a very close friend of Johann Wolfgang von Goethe. She inspired the characters Iphigenie in Iphigenie auf Tauris and Natalie in Wilhelm Meister. After 1788 when Goethe met and later married Christiane Vulpius, the "Seelenbund" with Frau von Stein weakened and dissolved.
December 25, 1811
Birth of Wilhelm Emmanuel Freiherr von Ketteler in Munster, Germany. Ketteler was ordained a Roman Catholic priest in 1844 and was named Bishop of Mainz in 1850. He was deeply concerned about social issues, especial that of the well being of the working class. He was a member of the Frankfurt Assembly in 1848 and the Reichstag from 1871-72. At the First Vatican Council of 1869-70 he opposed the doctrine of the infallibility of the Pope. His views on the working class are expressed in the book Die Arbeiterfrage und das Christenthum (1864).
December 25, 1837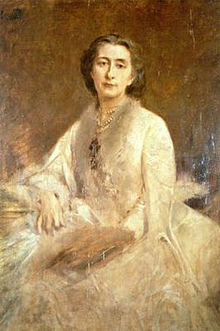 Birth of Cosima Wagner (born, Liszt) in Bellagio, Lombardy (then Austrian Empire, now Italy). She was the extra-marital daughter of the composer, Franz Liszt and Countess Marie d'Agoult. In 1857 she married the conductor, Hans von Bülow. During visits with Richard Wagner, whose new music von Bülow conducted, Cosima and Richard fell in love. The first of their children were born while Cosima was still married to von Bülow. In 1870 Cosima and Richard married. Friedrich Nietzsche, who was also a frequent visitor at the Wagner household, felt at one time that he was in love with Cosima. After Richard's death, Cosima managed the Bayreuth Festivals until 1908.
December 25, 1851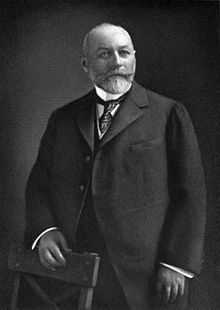 Birth of Herman Frasch in Gaildorf, Germany. Frasch immigrated to the USA as a youth. He became involved in oil and sulfur mining and invented a process for the economic mining of sulfur, called the Frasch process. He was the president of the Union Sulfur Company, the world's largest sulfur-mining company.
December 25, 1875
Birth of Theodor Innitzer in Weipert, Austro-Hungarian Empire. Innitzer was the Archbishop of Vienna and a cardinal at the time that Germany annexed Austria. He embraced the annexation with enthusiasm and supported the Nazi party. After his palace had been attacked by Nazi mobs and he had been rebuked by Pope Pius XI, however, he ceased to support the Nazi party.
December 25, 1876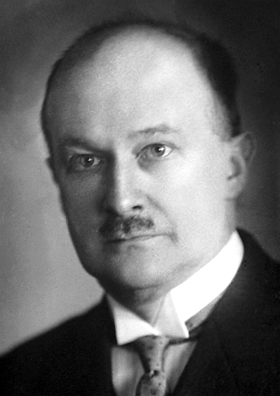 Birth of Adolf Windaus in Berlin, Germany. Windaus won the Nobel Prize for Chemistry in 1928 for his research on vitamin D. Windau was a professor at the University of Gottingen.
December 25, 1904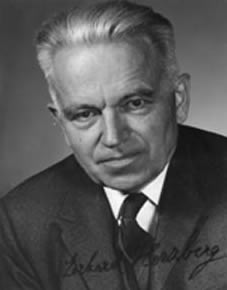 Birth of Gerhard Herzberg in Hamburg, Germany. Herzberg won the Nobel Prize for chemistry in 1971 for his work in determining the electronic structure and geometry of molecules, especially free radicals. Herzberg had been a Privatdozent at the Darmstadt Institute of Technology, but fled to Canada after the Nazis came to power.
December 25, 1906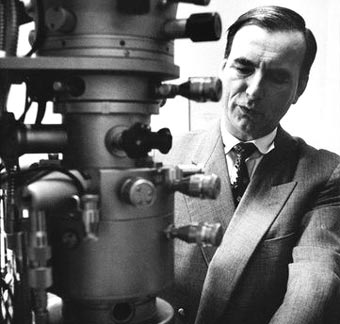 Birth of Ernst Ruska in Heidelberg, Germany. Ruska won the Nobel Prize for Physics in 1986 for his invention of the electron microscope. He built his first electron microscope in 1933. He was a researcher at Siemens AG.
December 25, 1925
Death of Karl Abraham in Berlin, Germany. The psychoanalyst, Abraham, studied with Eugen Bleuler in Zurich. He then opened a practice in Berlin. He specialized in the role of infant sexuality in mental development. He defined 6 stages in child libido development, oral, oral-sadistic, anal expulsive, anal retentive, phallic, and adult genital. He proposed that development may be arrested in any of those stages, leading to adult mental problems.
December 25, 1933
Joachim Meisner was born in Breslau, Germany (now Poland). He was ordained a priest in 1962. He was named a Bishop by Pope Paul VI in 1975. In 1980 he was named the Bishop of Berlin. He was named a Cardinal by Pope John Paul II in 1983 and Archbishop of Cologne in 1988.
December 25, 1936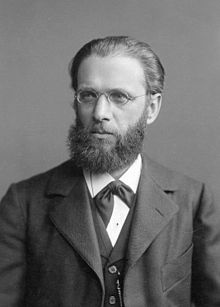 Death of Carl Stumpf in Berlin, Germany. Stumpf was a philosopher and psychologist who did work on the psychology of music and tone, Ton Psychologie (2 vols. 1833-90) He was a professor at the universities of Wurzburg, Prague, Halle, Munich and Berlin. While in Berlin, he founded the journal Beiträge zur Akustik und Musikwissenschaft.
Back to Today in German History Calendar