February 12, 1777
Birth of Friedrich de La Motte Fouque in Brandenburg, Germany. Descended from a French noble family, Fouque was for a time a very popular writer. His best known works are Undine (1811) and Der Held des Nordens (1808).
February 12, 1804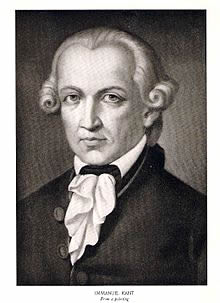 The philosopher Immanuel Kant (1724-1804) dies in Königsberg (now Kaliningrad in Russia) with the words "Es ist gut". Kant was a German philosopher who researched, lectured and wrote on philosophy and anthropology during the Enlightenment at the end of the 18th century.
Kant's major work, the Critique of Pure Reason (Kritik der reinen Vernunft, 1781), aimed to unite reason with experience to move beyond what he took to be failures of traditional philosophy and metaphysics. He hoped to end an age of speculation where objects outside experience were used to support what he saw as futile theories, while opposing the skepticism of thinkers such as Hume.
February 12, 1834
Death of Friedrich Schleiermacher in Berlin, Germany. In his youth Schleiermacher belonged to the Herrenhuter, a pietistic society. Upon leaving home he studied at the University of Halle. His study of theology was accompanied by in-depth study of Kant. Upon completion of his studies he became a pastor. While serving near Berlin he became friends with some of the leading Romantic writers. That association led, in Schleiermacher and in his literary friends, to a sense of blending of religion and art. In 1810 he became a professor of theology at the University of Berlin. Works by Schleiermacher include, Der christliche Glaube, Die Weihnachtsfeier, and Über die Religion.
February 12, 1847
Birth of Philipp Eulenburg in Königsberg, Germany (now in Russia). Eulenburg was the closest advisor to Wilhelm II, with greatest influence after the departure of Bismarck.
February 12, 1851
Birth of Eugen von Böhm-Bawerk in Brün, Austrian Empire (now in the Czech Republic). Böhm-Bawerk was an economist who worked for many years in the Austrian ministry of finance. In that capacity he worked on the currency reform of 1892 and on the conversion to the gold standard. He was a central figure in the development of the Austrian school of economics, having done much of the groundwork of the capital theory adopted by the school.
February 12, 1880
Death of Karl von Holtei in Breslau, Germany (now in Poland). Von Holtei was a composer of light operas and a novelist. Among his works are Der Alte Freiherr (1825), and Lenore (1829).
February 12, 1884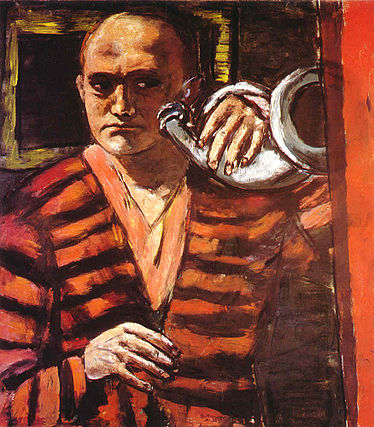 Max Beckmann Self-portrait with Horn, 1938-1940
Birth of Max Beckmann (1884-1950) in Leipzig, Germany. Beckmann was an Expressionist painter. He moved to Berlin in 1904 and joined the "Berlin Sezession". In 1906 he met the Norwegian painter, Edvard Munch, who made a lasting impression on him and his art. His work was declared degenerate by the Nazis. He fled to Amsterdam in 1937 and then to the United States. For a time he taught at Washington University in St. Louis. Some of his titles are "The Descent from the Cross", "The Night", "The Actors", and "Argonauts".
February 12, 1892
Birth of Theodor Plievier in Berlin, Germany. Plievier fought in the German navy in World War I. He recounted his war thoughts in such books as Des Kaisers Kulis (1930) and Der Kaiser ging, die Generäle blieben (1932). The Nazi Party banned his books. A devoted communist, he fled to Moscow in 1933 and returned to the Soviet zone of Germany in 1945 and West Germany in 1947. Concerning his experiences in World War II he wrote a trilogy, Stalingrad (1945) Moskau (1952), and Berlin (1954).
February 12, 1894
Death of Hans von Bülow in Cairo. Von Bülow worked closely with Richard Wagner and conducted many of his works in Munich. He was married to Franz Liszt's daughter Cosima until she left him to marry Wagner. Despite the new relationship with his former wife, von Bülow continued to be an admirer and promoter of Wagner's music.
Back to Today in German History Calendar