February 9, 1834
Birth of Felix Dahn in Hamburg, Germany. Dahn was a professor of law at the universities of Munich, Würzburg and Berlin. In addition to his work in law he wrote histories and historical novels. Among his histories are Die Könige der Germanen (11 volumes), Die Urgeschichte der germanischen und romanischen Völker and Deutsche Geschichte von der Urzeit bis 843. His most popular novel was Ein Kampf um Rom.

February 9, 1846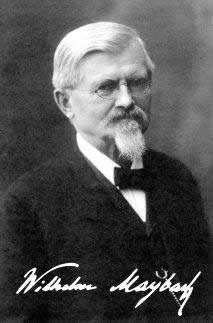 Birth of Wilhelm Maybach (1846-1929) in Heilbronn, Germany, chief designer of the first Mercedes automobiles. In partnership with Gottlieb Daimler he founded the Daimler-Motoren-Gesellschaft in 1890. In 1909 he and his son, Carl, founded a company to build aircraft engines and engines for Zeppelin's lighter-than-air craft.
February 9, 1865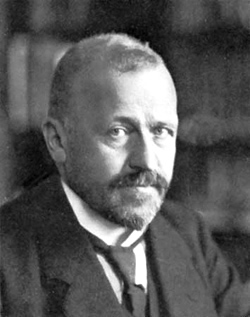 Birth of Erich Dagobert von Drygalski (1865-1949) in Königsberg, Germany (now in Russia). A geographer and glaciologist, Drygalski led an expedition to the Antarctic from 1901-1903 and published the results of the findings in Deutsche Südpolar-Expedition 1901-1903. The 20 volume work appeared between 1905 and 1931. Drygalski was a professor at the University of Munich.
February 9, 1885
Birth of Alban Berg in Vienna, Austria. Berg was a composer, a student of Arnold Schoenberg. He composed primarily instrumental music, but is broadly known for his two operas, Wozzeck and Lulu. The text of Wozzeck is adapted from Georg Büchners Woyzeck and that of Lulu from the work of Frank Wedekind. Berg's music in all formats is atonal and chromatic.
February 9, 1988
Death of Kurt Adler in Ross, California (born in Vienna, Austria). After study at the Vienna Academy of Music, the Vienna Conservatory and the University of Vienna, Adler became a leading conductor at various locations in Europe. In 1938 he immigrated to the United States and accepted a position with the Chicago Opera. In 1943 he moved to the San Francisco Opera and was responsible for transforming that company from regional status to a leading opera company.
Back to Today in German History Calendar