June 1, 1035
Death of St. Simeon. Simeon was born in Greece. He was educated in Constantinople. As a youth he lived and worked in the Holy Land. He lived for a number of years in monasteries in Bethlehem and in the Sinai preparing himself for the life of a hermit. He then moved to Trier (modern Germany, at that time the Holy Roman Empire a.k.a. the German Empire). In Trier there still stood (and stands yet today) the massive NorthGate of the defensive wall of the Romans, the Porta Nigra, from the period when Trier had been an important city in the Roman Empire. For the purpose of leading a life of total prayer and meditation, Simeon moved into a small area of the stone gate and had the area walled in with only a small opening through which food and drink could be passed. He lived in the darkness of his chamber in prayer from 1030 until his death in 1035 without seeing nor speaking to another human. He died on June 1, 1035. He was canonized later in 1035 by Pope Benedict IX. In 1041 the gate where Simeon had lived was converted into a church and a monastery was attached to it. Both were named after St. Simeon. Later under Napoleon the church structure was removed from its stone skeleton, the Roman gate, was revealed once again. The Porta Nigra stands today as the Roman gate of the 1st century with the buildings of the monastery attached. His feast day is celebrated on June 1 in the diocese of Trier.
June 1, 1503
Birth of Wilhelm von Grumbach near Würzburg. Grumbach envied the power and land of the Bishop of Würzburg and at one point plundered Würzburg.

June 1, 1780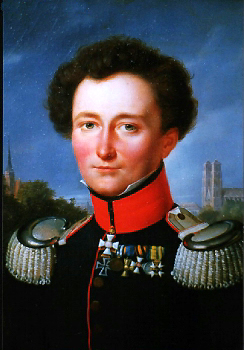 Birth of Prussian General Carl von Clausewitz (1780-1831) near Magdeburg. His book Vom Kriege established the concept of "total war". He spoke of war as "eine Fortsetzung der Politik mit anderen Mitteln."
June 1, 1867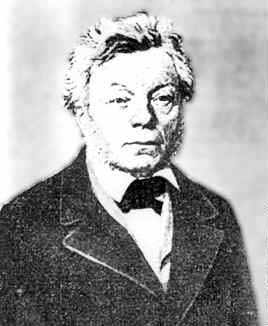 Death of Karl von Staudt (1798-1867) in Erlangen, Germany. Staudt was the mathematician who developed the theory of imaginary points, lines and planes. He taught at the Polytechnic School of Nürnberg and the University of Erlangen. He did research on the arithmetical properties of Bernoulli numbers and was co-developer of the "Von Staudt-Clausen theorem".
June 1, 1899
Death of Klaus Groth in Kiel, Germany. Groth was a professor at the University of Kiel. He had grown up speaking Plattdeutsch and was moved to write poetry in his native dialect (Ditmarschen). He was inspired by the dialect poems of Robert Burns in Scotland and those of Johann Peter Hebel who wrote in Swabian dialect. Some of his poetry gained much wider recognition after Johannes Brahms set them to music.
June 1, 1932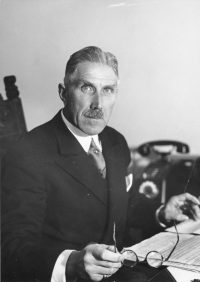 Franz von Papen is appointed chancellor in the Weimar Republic by president von Hindenburg. Von Papen will later be responsible for arranging for Adolf Hitler to be appointed chancellor with the thought he will be able to control Hitler and his party and achieve his own political goals. However, Papen and his allies were quickly marginalized by Hitler and he left the government after the Night of the Long Knives, during which the Nazis killed some of his confidantes.
June 1, 1848
The Neue Rheinische Zeitung begins publication under the direction of Karl Marx. Friedrich Engels is the publisher. Other noted communists working with the paper are, Ernst Dronke, Georg Werth, Wilhelm Wolff and Ferdinand Wolff.
June 1, 1973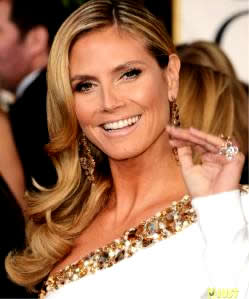 Birth of Heidi Klum, a German model, television host, businesswoman, fashion designer, television producer, and an occasional actress. In 2008, she became an American citizen while maintaining her native German citizenship.
Klum became internationally known for her appearances on the cover of the Sports Illustrated Swimsuit Issue. In 1997 she became the first German model to become a Victoria's Secret Angel. Following a successful modeling career, Klum gained acclaim as the host and judge of the reality show Project Runway which earned her an Emmy nomination in 2008. She has worked as a spokesmodel for Dannon and H & M, and has appeared in numerous commercials for McDonald's, Volkswagen and others.
She is ranked second on Forbes' list of the "World's Top-Earning Models", behind Gisele Bündchen. Forbes noted that since ending her 13-year run as a Victoria's Secret Angel, Klum has become more of a businesswoman than a model. She was married to English singer Seal from 2005 until 2012.
Back to Today in German History Calendar