June 8, 1650
Death of Maximilian von Trauttmansdorff in Vienna, Austria. Von trauttmansdorff was an Austrian diplomat who had played a key role in Habsburg imperial politics for many years when he was called upon to negotiate an end to the Thirty Years' War. After negotiations lasting for five years the War ended with the Peace of Westphalia in 1648.
June 8, 1727
Death of August Hermann Francke in Halle, Germany. Francke was a Protestant religious leader who was an important promoter of German Pietism. He founded Pietist groups at the University of Halle. Francke taught theology and Oriental languages at the University.
June 8, 1768
Death of Johann Winckelmann in Trieste, Italy (born in Germany). It was the archeologist and art historian, Winckelmann, who directed the attention of German intellectuals to classical art. His Gedanken über die Nachahmung der griechischen Werke in der Malerei und Bildhauerkunst (1755) and Geschichte der Kunst des Altertums (1764) became the influential works of an age. He defined Greek art and aesthetics for German thinkers (although he was never able to travel to Greece himself and never saw the originals of many of the works he described). His comments on the Greek sculpture, Laocoön, were the most influential in German intellectual circles.
June 8, 1794
Death of Gottfried August Bürger in Göttingen, Germany. The poet, Bürger was one of the leaders toward the Romantic movement in German literature. In 1787 he was appointed Außerordentlicher Professor at the University of Göttingen, a position which allowed him to teach but unfortunately did not involve a salary. Thus, as a professor, he continued to live in the same poverty in which he had spent his earlier life.
June 8, 1810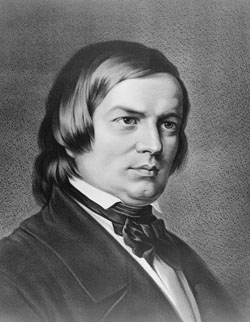 Birth of Robert Schumann (1810-1856) in Zwickau, Germany. Robert Schumann was a German composer and influential music critic. He is widely regarded as one of the greatest composers of the Romantic era. Schumann left the study of law to return to music, intending to pursue a career as a virtuoso pianist. In 1840, against her father's wishes, Schumann married the pianist Clara Wieck, daughter of his former teacher, the day before she legally came of age at 21. Had they waited one day, they would have no longer needed her father's consent, absence of which had led to a long and acrimonious legal battle, which found in favor of Clara and Robert. Clara also composed music and had a considerable concert career, the earnings from which formed a substantial part of her father's fortune.
For the last two years of his life, after an attempted suicide, Schumann was confined to a mental institution, at his own request.
June 8, 1815
German states, left separated by the fall of the Holy Roman Empire in 1806, unite under the Act of Confederation.
June 8, 1877
Birth of Robert F. Wagner in Hesse, Germany. He moved to the United States and became a U. S. senator.
June 8, 1986
Kurt Waldheim, former Secretary General of the U. N. is elected President of Austria, even though he had been accused of Nazi crimes. He had earlier served two terms as the Secretary General of the United Nations.
June 8, 2001
Roman Herzog is awarded the "Staatsbürgerpreis".
Back to Today in German History Calendar