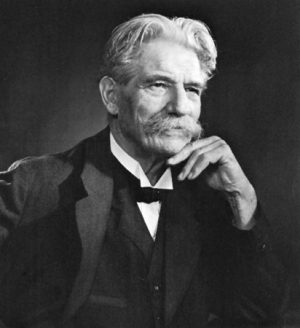 Albert Schweitzer was an Alsatian-German theologian, philosopher, organist, and mission doctor in equatorial Africa, whose goal was the Brotherhood of Nations.
A Lutheran, Schweitzer challenged both the secular view of Jesus as depicted by historical-critical methodology current at this time, as well as the traditional Christian view. His contributions to the interpretation of Pauline Christianity concern the role of Paul's mysticism of "being in Christ" as primary and the doctrine of Justification by Faith as secondary.
He received the 1952 Nobel Peace Prize for his philosophy of "Reverence for Life", expressed in many ways, but most famously in founding and sustaining the Albert Schweitzer Hospital in Lambaréné, now in Gabon, west central Africa (then French Equatorial Africa). As a music scholar and organist, he studied the music of German composer Johann Sebastian Bach and influenced the Organ Reform Movement (Orgelbewegung).
Schweitzer was born in the province of Kaysersberg on January 14, 1875, which changed hands between France and Germany near and during his lifetime. Schweitzer's first language was the Alsatian dialect. At the Mulhouse Gymnasium he received his "Abitur" (the certificate at the end of secondary education) in 1893. He studied organ in Mulhouse from 1885 to 1893 with Eugène Munch, organist at the Protestant cathedral, who inspired Schweitzer with his profound enthusiasm for the music of the German composer Richard Wagner. In 1893 he played for the French organist Charles-Marie Widor (at Saint-Sulpice, Paris), for whom Johann Sebastian Bach's organ music contained a mystic sense of the eternal. Widor, deeply impressed, agreed to teach Schweitzer without fee, and a great and influential friendship thus began.
In 1905 Widor and Schweitzer were among the six musicians who founded the Paris Bach Society, a choir dedicated to performing J.S. Bach's music, for whose concerts Schweitzer took the organ part regularly until 1913. He was also appointed organist for the Bach Concerts of the Orféo Català at Barcelona and often travelled there for that purpose. He and Widor collaborated on a new edition of Bach's organ works, with detailed analysis of each work in three languages (English, French, German). Schweitzer, who insisted that the score should show Bach's notation with no additional markings, wrote the commentaries for the Preludes and Fugues, and Widor those for the Sonatas and Concertos: six volumes were published in 1912–14. Three more, to contain the Chorale Preludes with Schweitzer's analyses, were to be worked on in Africa: but these were never completed, perhaps because for him they were inseparable from his evolving theological thought.
On departure for Lambaréné in 1913 he was presented with a pedal piano, a piano with pedal attachments (to operate like an organ pedal-keyboard). Built especially for the tropics, it was delivered by river in a huge dug-out canoe to Lambaréné, packed in a zinc-lined case. At first he regarded his new life as a renunciation of his art, and fell out of practice: but after some time he resolved to study and learn by heart the works of Bach, Mendelssohn, Widor, César Franck, and Max Reger systematically. It became his custom to play during the lunch hour and on Sunday afternoons. Schweitzer's pedal piano was still in use at Lambaréné in 1946. And according to a visitor, Dr. Gaine Cannon, of Balsam Grove, N.C., the old, dilapidated piano-organ was still being played by Dr. Schweitzer in 1962 and stories told that "his fingers were still lively" on the old instrument at 88 years of age.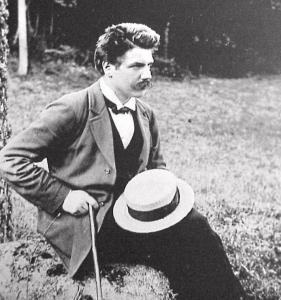 In 1906 he published Geschichte der Leben-Jesu-Forschung ("History of Life-of-Jesus research"). This book, which established his reputation, was first published in English in 1910 as The Quest of the Historical Jesus. Under this title the book became famous in the English-speaking world. A second German edition was published in 1913, containing theologically significant revisions and expansions: but this revised edition did not appear in English until 2001. Later, in 1931, he published Mystik des Apostels Paulus ("The Mysticism of Paul the Apostle").
At the age of 30, in 1905, Schweitzer answered the call of The Society of the Evangelist Missions of Paris, which was looking for a medical doctor. However, the committee of this missionary society was not ready to accept his offer, considering his Lutheran theology to be "incorrect". He could easily have obtained a place in a German evangelical mission, but wished to follow the original call despite the doctrinal difficulties. Amid a hail of protests from his friends, family and colleagues, he resigned his post and re-entered the university as a student in a three-year course towards the degree of Doctorate in Medicine, a subject in which he had little knowledge or previous aptitude. He planned to spread the Gospel by the example of his Christian labour of healing, rather than through the verbal process of preaching, and believed that this service should be acceptable within any branch of Christian teaching.
Even in his study of medicine, and through his clinical course, Schweitzer pursued the ideal of the philosopher-scientist. By extreme application and hard work, he completed his studies successfully at the end of 1911. His medical degree dissertation was another work on the historical Jesus, The Psychiatric Study of Jesus. In June 1912, he married Helene Bresslau, municipal inspector for orphans and daughter of the Jewish pan-Germanist historian Harry Bresslau.
In 1912, now armed with a medical degree, Schweitzer made a definite proposal to go as a medical doctor to work at his own expense in the Paris Missionary Society's mission at Lambaréné on the Ogooué river, in what is now Gabon, in Africa.  In the first nine months, he and his wife had about 2,000 patients to examine, some travelling many days and hundreds of kilometers to reach him. In addition to injuries, he was often treating severe sandflea and crawcraw sores, framboesia (yaws), tropical eating sores, heart disease, tropical dysentery, tropical malaria, sleeping sickness, leprosy, fevers, strangulated hernias, necrosis, abdominal tumours and chronic constipation and nicotine poisoning, while also attempting to deal with deliberate poisonings, fetishism and fear of cannibalism among the Mbahouin.
Schweitzer's wife, Helene Schweitzer, was an anaesthetist for surgical operations. After briefly occupying a shed formerly used as a chicken hut, in autumn 1913 they built their first hospital of corrugated iron, with two 13-foot rooms (consulting room and operating room) and with a dispensary and sterilizing room in spaces below the broad eaves.
Schweitzer considered his work as a medical missionary in Africa to be his response to Jesus' call to become "fishers of men" but also as a small recompense for the historic guilt of European colonizers. Schweitzer was one of colonialism's harshest critics.
After the birth of their daughter (Rhena Schweitzer Miller), Albert's wife, Helene Schweitzer was no longer able to live in Lambaréné owing to her health. In 1923 the family moved to Königsfeld im Schwarzwald, Baden-Württemberg, where he was building a house for the family. This house is now maintained as a Schweitzer museum.
Schweitzer was awarded the Nobel Peace Prize of 1952, and his acceptance speech, "The Problem of Peace", is considered one of the best speeches ever given. From 1952 until his death he worked against nuclear tests and nuclear weapons with Albert Einstein, Otto Hahn and Bertrand Russell. In 1957 and 1958 he broadcast four speeches over Radio Oslo which were published in Peace or Atomic War. In 1957, Schweitzer was one of the founders of The Committee for a Sane Nuclear Policy. On 23 April 1957, Schweitzer made his "Declaration of Conscience" speech; it was broadcast to the world over Radio Oslo, pleading for the abolition of nuclear weapons. His speech ended, "The end of further experiments with atom bombs would be like the early sunrays of hope which suffering humanity is longing for."
With the $33,000 prize money, he started the leprosarium at Lambaréné. Albert Schweitzer died on September 4, 1965, and was buried at Lambaréné.