"Together, I said, we shall boil fire and stop fish."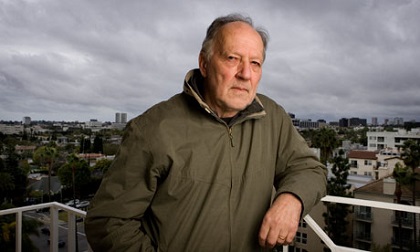 Werner Herzog (real name Werner H. Stipetic) was born in Munich on September 5, 1942. He grew up in a remote mountain village, where were any films, television, or telephones. In the age of 14 he decided to see the world and started traveling on foot. During the same time he was inspired by an encyclopedia entry about film-making, the boy stole the 35 mm camera from the Munich Film School. It was the beginning of his future way. Later Herzog admitted: "I don't consider it theft — it was just a necessity — I had some sort of natural right for a camera, a tool to work with."
He studied at the University of Munich and simultaneously worked night shifts as a welder in a steel factory. He had a dream: to make his first film and Werner did it at the age of 19. Since then he has produced, written, and directed more than forty films, directed operas and published more than a dozen books of prose.
Werner Herzog's name is connected with the German New Wave movement (the so-called "New German Cinema"). The characters of his films are strange romantics, who have impossible dreams and believe in miracles or individuals, who find themselves in conflict with society, try to break the rules and destroy the imposed bounds to set free their spirit.
Herzog was famous for using people from the locality in which he was shooting, not only German and American movie stars. For example, in his documentaries Herzog uses locals to benefit his
"ecstatic truth", being themselves. His films have achieved popularity on the art house circuit and received considerable critical acclaim. They have also been the subject of controversy because of their messages. The filmmaker has never used storyboards, he has often improvised large parts of the script. Herzog is proud of such a manner of work.
Werner Herzog's works have got many different awards. Among them are the Silver Bear for his first feature film "Signs of Life", the best director award for "Fitzcarraldo" at the 1982 Cannes Film Festival, The Special Jury Prize for his movie "The Enigma of Kaspar Hauser" at the same festival, Golden Palm for "Woyzeck" and "Where the green ants dream". His films were also nominated at many other very important international festivals: César Awards ("Aguirre", "The Wrath of God"), Emmy Awards ("Little Dieter Needs to Fly"), European Film Awards ("My Best Fiend") and Venice Film Festival ("Scream of Stone" and "The Wild Blue Yonder").
At the 49th San Francisco International Film Festival Herzog received the 2006 Film Society Directing Award.
On January 2006, giving an interview for the BBC, Herzog was shot on film with an air rifle by an unknown individual. He did not stop the interview and showed his wound on camera. Herzog behaved as if nothing extraordinary had happened, remarking "It is not a significant bullet". It is the way he is.
Selected Filmography:
2008 – Bad Lieutenant: Port Of Call New Orleans
2007 – Encounters At The End Of The World
2006 – Rescue Dawn
2005 – The Wild Blue Yonder
2005 – Grizzly Man
2004 – The White Diamond
2003 – Wheel of Time
2001 – Ten Thousand Years Older
2000 – Invincible
2000 – Christ and Demons in New Spain
1999 – Wings of Hope
1995 – Death for Five Voices
1993 – Bells from the Deep
1992 –  Lessons of Darkness
1991 –  Scream of Stone
1984 – The Dark Glow of the Mountains
1976 – Heart of Glass
1967 –  Last Words
1964 – Game in the Sand