"I want to make personal films, not private films."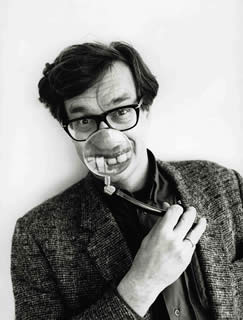 Wim Wenders was born to create. He recognized it at high school in Oberhausen, where Wim began his studies in medicine and philosophy. Wenders decided to become a painter and moved to Paris, where he failed his entry test at the Art Academy. But this failure led him to the studio of Johnny Friedlander, an American artist, in Montparnasse. During this time, Wenders became fascinated with cinema. He understood, that his calling is to paint 'alive' pictures.
After his returning back to Germany Wim entered the Graduate School of Film and Television ("Hochschule für Fernsehen and Film), which had just been founded in Munich. Wenders shot several short films before graduating from the Graduate School with a feature-length 16mm black and white ("Summer in the City"). He also worked as a film critic and contributed to the film review ("FilmKritik"), to the Munich daily newspaper "Süddeutsche Zeitung".
Wim Wenders began his professional career in 1971 with his next film, "The Goalkeepers Fear of the Penalty Kick", based on the novel of the same name by his friend Peter Handke. In 1971, together with fourteen other German filmmakers, he started a production and distribution cooperative called "Filmverlag der Autoren". That company became the nucleus of the "New German Cinema".
In 1977, he finished "The American Friend", his first international co-production. In 1978 Francis Ford Coppola invited him to the United States to shoot "Hammett" for Zoetrope Productions.
In 1984 Wenders became a member of the Art Academy (Akademie der Künste) in Berlin. In 1987 his film "Wings of desire" ("Der Himmel über Berlin") was released, it won the prize for Best Director at the 1987 Cannes Film Festival. During this period he also published his first photo book, "Written in the West", which reflected his fascination with the American West.
In 1989 Wim Wenders received an honorary doctor title from the Sorbonne University in Paris.
From 1991 to 1996 he was elected as the  President of European Film Academy, a function he still fills out today. Since 2003 Wenders is teaching as a professor at the Hamburg Academy of Arts.
His awards are Silver Bear Jury Prize (2000, "The Million Dollar Hotel"), Golden Palm (1984 "Paris", "Texas"), Best Director Award (Cannes Film Festival, 1993 "Faraway, So Close!") and Golden Lion (1982, "The State of Things").
"Sex and violence was never really my cup of tea; I was always more into sax and violins."
Selected Filmography:
2008 – Palermo Shooting
2005 – Don't Come Knocking
2003 – The Soul of a Man
2002 – Ten Minutes Older
2002 – Ode to Cologne: A Rock 'N' Roll Film
2000 – The Million Dollar Hotel
1997 – The End of Violence
1993 – Faraway, So Close!
1989 – Notebook on Cities and Clothes
1974 – Alice in the Cities
1970 – Summer in the City