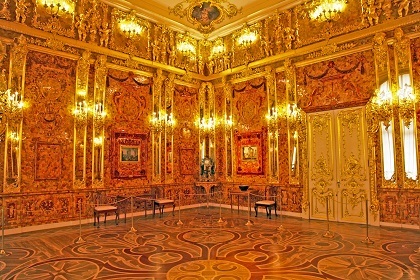 The mystery of what is generally considered to be the greatest of the missing treasures of Europe – the Amber Room – is still unsolved. However, Europe does not give up, and the searches continue…
The Amber Room is surely one of the most original and – since its disappearance in 1944 in the aftermath of the WWII – mysterious of the world's works of art. The exquisite room made of several tons of the golden tree resin – the lightest gem in the world – is often referred to as the "Eighth Wonder of the World".
The Amber Room was a series of large wall panels inlaid with several tons of masterfully carved high-quality amber, long wall mirrors and four Florentine mosaics. The amber, which covered three walls, was arranged in three tiers. The central (middle) tier consisted of eight large, symmetrical vertical panels. Four of them contained pictures made of semiprecious stones like quartz, jasmine, jade and onyx, executed in the 1750s in Florence using the Florentine mosaic technique according to designs by the artist Giuseppe Dzokki, and depicting five senses: Sight, Taste, Sound, Touch and Smell. The distance between the large panels was occupied by mirrored pilasters. The lower tier of the room was covered in square amber panels. One of the corners contained a small amber table on an elegantly turned leg. The room's furnishings consisted of inlaid wood commodes of Russian origin, and a vase of Chinese porcelain.
In addition, one of the most valuable collections of amber objects created in the 17th and 18th centuries by German, Polish and Russian masters was housed in the room's glass-covered display cases.
The estimated value of the vanished Amber Room is more than $100 million.




Related articles:
The Amber Room: History of the Creation
Reconstruction of the Amber Room