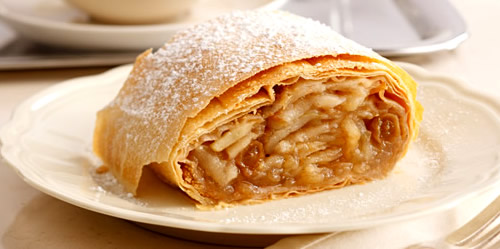 This magically delicious Apple strudel is a classic German dessert. The German word Strudel literally means "whirlpool," and it refers to the technique and effect of rolling up of a generous fruit filling in phyllo dough. As a result you'll get a juicy apple and raisin filling encased in crisp flaky pastry.
Ingredients:
Crumb mixture:
3 tablespoons unsalted butter, cut into tablespoons
1 cup fresh bread crumbs
1/3 cup sliced almonds
Apple filling:
4 large Granny Smith apples, peeled, halved, cored and very thinly sliced
1 teaspoon finely grated lemon zest
2 tablespoons lemon juice
1/3 cup golden raisins
1/2 cup granulated sugar
Assembly:
8 sheets phyllo dough (each sheet measuring  about 30 cm x 45 cm)
6 tablespoons unsalted butter, melted
Confectioners' sugar for sprinkling
Directions:
1. Make crumb mixture: in a large skillet, melt butter over medium heat. Add bread crumbs and cook over medium-high heat, stirring constantly, until crumbs are golden brown. Stir in the sliced almonds and set aside to cool.
2. Make filling: place apples slices in large bowl and toss with lemon zest, lemon juice and raisins. Add sugar and toss to coat.
3. Assemble strudel: Position a rack in center of oven and preheat oven to 375 degrees F (190 C). Lay a phyllo sheet on a clean work surface. Lightly brush sheet with butter. Sprinkle with 2 1/2 tablespoons bread crumb mixture. Layer remaining 7 sheets phyllo over first, buttering and sprinkling each one with bread crumb mixture. Spoon apple compote evenly down long side of phyllo, about 5 cm from bottom edge and 2 cm in from both sides. Fold bottom edge and side flaps over filling and roll up phyllo jelly roll-style.
4. Transfer strudel to baking sheet and brush it lightly with melted butter. Bake for 30 to 35 minutes, or until crisp and golden. Remove strudel from oven and let cool on baking sheet on wire rack for 10 minutes. Dust with confectioners' sugar and serve, sliced, with whipped cream.