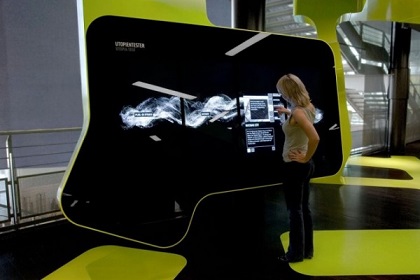 Until 1990 Germany was a divided country. The media system of the former GDR was highly centralized and worked under the control of the Communist Party. It disappeared during the process of unification, but patterns of media usage still differ between East and West. Today, the major media production centers are located in the "old" West, newspapers of the former GDR are usually controlled by Western companies, broadcasting is integrated into the Western dual system.
Germany has a "dual system" of both public and commercial broadcasting (in fact, if you include community media it is a trial system). In public broadcasting the Länder (states) have a strong role. The German Federal Constitution stipulates that the sole responsibility for broadcasting rests with the Länder of the Federal Republic as part of their "cultural sovereignty". Because of this, the public service broadcasters are a creation of the Länder that act individually ore jointly (in agreements). The exception is the broadcaster Deutsche Welle, based on federal legislation, designed to provide services (radio, TV, online) to foreign countries only.
The German press is characterized by a large number of titles. If local editions of all papers are included, there are 1,512 different newspapers.
The local and regional newspaper market is strong and important in Germany. In 2008, total newspaper circulation stood at 20.2 million, most of which is subscription press as opposed to tabloid press. 95% of the subscription press claims to be local. There is only a small number of national newspapers: BILD, Süddeutsche Zeitung (SZ), Frankfurter Allgemeine Zeitung (FAZ), Welt, Frankfurter Rundschau (FR), Tageszeitung (Taz). They claim to be independent and "above parties", but most cover a liberal and conservative spectrum. The top-selling German tabloid paper is BILD Zeitung, which is also the best-selling paper of Europe. The German magazine sector is extremely buoyant with some 906 general magazines and 1,218 specialized periodicals currently on the market. A weekly news magazine, modeled after the American Time Magazine and for long time with a virtual monopoly in its market is Der Spiegel (ca. 1.07 million). With its investigative style of journalism, it represents the most influential political publication in Germany.
Radio is a popular medium in Germany, daily consumption is 176 minutes (2008), of which slightly more than a half comes from public service broadcasters. Commercial radio is licensed in all Länder-states, therefore it follows mostly a regional pattern.
Germans spend about 219 minutes per day on television, split about evenly between public and commercial programmers. The first film was shown in Germany by the Skladanowsky brothers in Berlin in 1895. The German film industry had its best time after Word War I (Fritz Lang, Friedrich Wilhelm Murnau); the Nazis used film as a propaganda tool. After 1945 heavy competition from Hollywood limited the German market, where only 20 to 27 percent of actually seen films are of German origin. In 2008 there were about 1,793 film theaters with about 4,810 screens. The average German visits a cinema 1.58 times per year.




Related articles:
Radio and Television
Newspapers in Germany
Germany Today – German Online Newspapers and Magazines