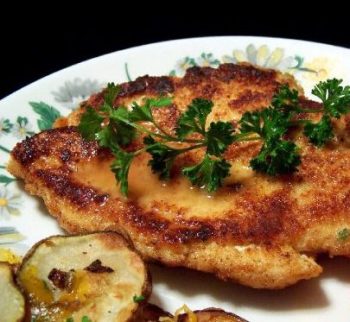 While veal is the traditional choice for authentic German Wiener Schnitzel, chicken or pork is an easy and delicious substitution. And this pan-seared schnitzel is a lightened up version of the favorite fried cutlets, yet is just as tender and yummy as its counterpart.
Ingredients:
4 skinless, boneless, thinly sliced chicken breasts
1/4 teaspoon kosher salt and freshly ground pepper
1/2 cup all-purpose flour
1/8 teaspoon freshly grated nutmeg
1/4 cup milk
1 large egg, lightly beaten
1 cup bread crumbs
2 tablespoons chopped fresh flat-leaf parsley
1/2 teaspoon garlic powder
1 tablespoon olive oil
Preparation:
Preheat oven to 175 degrees C.
Line a baking sheet with foil. Coat with some olive oil.
Season chicken cutlets with salt and freshly ground pepper.
Create 3 shallow dishes for dredging and dipping:- 1/2 cup flour with 1/8 teaspoon nutmeg
– 1/4 cup milk and 1 egg, lightly beaten
– Combined bread crumbs, parsley, and garlic powder
Dredge chicken cutlets first in flour mixture, followed by a dip in the milk/egg mixture and finally dredge in bread crumb mixture, shaking off excess.
Heat a large nonstick skillet over medium-high heat. Add olive oil to pan, swirl to coat. Add 2 chicken breast halves to pan; cook 2-3 minutes on each side until nicely browned. Remove chicken from skillet and place on baking sheet. Continue with remaining 2 chicken breasts, adding more oil if necessary.
Bake chicken in a 175 C oven and allow to cook for another 15 minutes or until chicken is done.