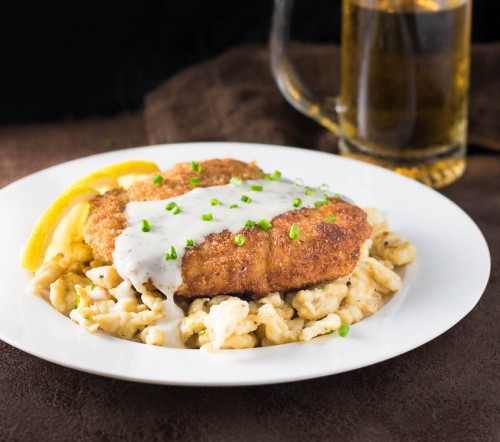 A staple of German cuisine with a brightly flavored sauce.  A lemon dill sauce highlights the traditional lemon flavor often paired with schnitzel, but also adds the poignant flavor of dill. Best served with homemade Spätzle.  Spätzle is a traditional German pasta dumpling made from eggs, milk, and flour and is the perfect hearty accompaniment for pretty much any German entree. Spätzle is not only perfect for sopping up any extra lemon dill sauce, it is much easier to make than traditional pasta.
Ingredients:
4 veal cutlets pounded 1/2 cm thick
Kosher salt and freshly ground pepper
1 cup all-purpose flour
3 eggs
2 cups plain dried breadcrumbs
olive oil
1 lemon divided
Sauce
500 ml chicken broth
2 tbsp flour
200 g sour cream
1/2 tsp dill
1 tsp lemon juice
Directions:
    Set up 1 large bowl of flour, 1 large bowl of beaten eggs, and one large bowl of breadcrumbs.
    Heat a skillet on medium heat and add enough oil to coat the bottom completely.
    Sprinkle meat lightly with salt and pepper, then proceed to dip in flour mixture, shake off the excess then dip in beaten eggs, let eggs drain off then coat completely in breadcrumbs.
    Place the schnitzel in the hot oil and turn once the bottom has browned.
    The meat inside will cook quickly, so you can tell it is done once both sides are brown.
Sauce
1.   Before you start cooking the meat, add flour to a small sauce pan and proceed to add a couple tablespoons of broth.
2.  Stir to combine, ensuring all lumps are gone.
3.  Add remaining broth and let liquid reduce while boiling.
4.  Add sour cream, lemon juice, and dill weed once the liquid has begun to reduce and stir to combine.
5.  Set heat on low to keep warm once thicken, but let it simmer if the sauce is thin.
6.  Serve schnitzel topped with sauce, garnished with a lemon wedge.




Photo via www.foxvalleyfoodie.com