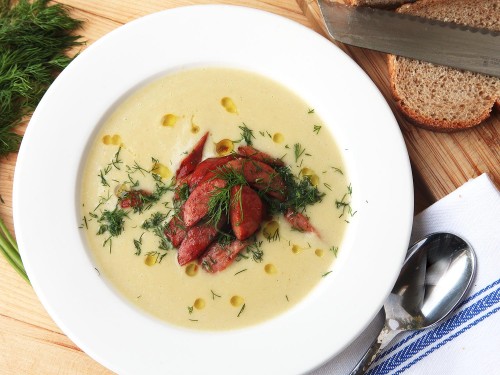 Ingredients:
*-*-*-*-*-*-*-*-*-*-*-*-*-*-*-*-*-*-*-*-*-*
1 kg potatoes
one large leek
2 carrots
1/4 of a celery root
one bunch of your favorite greens (dill, parsley)
6–7 cups of chicken broth
4–5 slices of thick cut bacon
bacon bat from the cooked bacon
1/4 cup of cream
salt and pepper to taste
olive oil
German Wieners or a fairly neutral sausage. The flavor of the sausage shouldn't compete with the soup.
Method:
*-*-*-*-*-*-*-*-*-*-*-*-*-*-*-*-*-*-*-*-*-*
Peel and cube potatoes. Chop the leek, carrots, celery and the greens. Save some shopped greens for serving.
Preheat a bit of olive oil in a large pot and add all of the shopped vegetables. Stir well and let them cook for about 10 minutes until the leeks are softening. Stir again.
Add in the broth and let it cook covered on medium low for 20 minutes, or until the potatoes and carrots are very tender.
While the veggies are simmering in the broth, prepare the bacon: cube it up and saute in a pan until it's turning crispy and browning nicely.
When the potatoes and carrots are soft, puree with an immersion blender until nice and smooth. Add the cream and salt and pepper to taste. And if you really want a full on classic experience with this soup, add in a few chopped up wieners, some greens and a few drops of olive oil and just warm up in the soup for about 5 or so minutes before serving.
Related recipes:
German-Style Fried Potatoes (Bratkartoffeln)
German Sausage Soup Recipe
Roasted New Potatoes and Asparagus
White Asparagus Soup