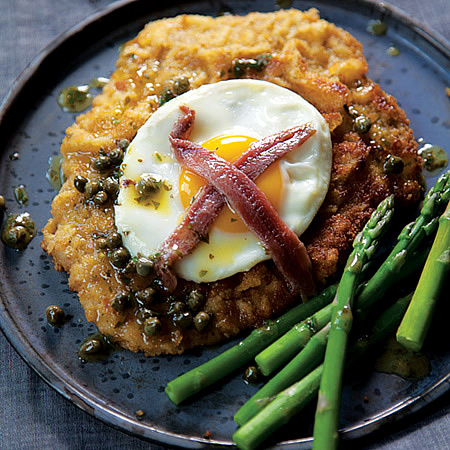 There is nothing quite like the Holsteiner Schnitzel recipe. It's a 19th century variation on the classic Wiener schnitzel, created for Herr Holstein (Baron Holstein actually), who apparently liked eggs and anchovies on his schnitzel.
Ingredients:
1 cup flour
1 cup fresh bread crumbs
½ cup milk
6 eggs
4 (3-oz.), 1/8″ thick veal cutlets
salt and freshly ground black pepper, to taste
8 tbsp. unsalted butter
8 oil-packed anchovy fillets
1 tbsp. finely chopped parsley
2 tsp. finely chopped capers
juice of 1 lemon
Method:
Place flour and crumbs on separate plates, and whisk milk and 2 eggs in a bowl.
Season cutlets with salt and pepper.
Coat cutlets in flour, then egg mixture, then dredge in crumbs. Heat 2 tbsp. butter in a 12″ skillet over medium-high heat.
Add 2 cutlets and cook, turning, until browned, 4 to 5 minutes. Transfer to a plate; repeat with 2 tbsp. butter and remaining cutlets.
Return skillet to heat. Add 2 tbsp. butter; crack remaining eggs into skillet; cook until whites are firm, about 3 minutes.
Place an egg on each cutlet; crisscross 2 anchovies over each.
Return skillet to heat with remaining butter; cook, swirling, until brown and nutty, about 30 seconds. Stir in parsley, capers, and juice; pour over cutlets.