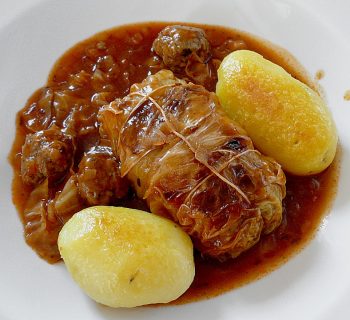 German stuffed cabbage rolls, or Kohlrouladen, are the quintessential German comfort food.
Ingredients:
1 large white cabbage about 1800 g
600 g of ground beef
1 bread roll
1 egg
1 egg yolk
150 g of chopped onion for meat
150 g of chopped onion for gravy
1 beef cube
2 tablespoons of crème fraîche or sour cream
2 teaspoons of salt
½ teaspoon of paprika (hot)
½ teaspoon of black pepper
750 ml of water
2 tablespoons of tomato paste
2 tablespoons of sunflower oil
3 tablespoons of corn starch
baker's twine
Preparation:
Remove the bottom core of the cabbage head with a knife. Place the cabbage in a large saucepan of boiling water and cook for 2–3 minutes. The leaves will loosen. When done, place the cabbage in a colander and rinse with cold water. Carefully separate the leaves and dry them with a paper kitchen towel. If there is some of the core remaining on the leaves, cut it out with a small kitchen knife. Use eight large leaves (if the leaves are not large enough, you can use two leaves) and spread them out on your work surface.
Soak the bread roll in the water. Place the ground beef in a bowl and add a half of the diced onions, egg, egg yolk, paprika, pepper, and salt. Wring the water out of the bread roll. Spread the bread roll pieces over the meat and mix all the ingredients together.
Divide the meat into eight portions and place each rounded ball on a cabbage leaf. Wrap the leaves around the meat by folding the right and left sides over the meat so that the meat remains contained in the leaves. Use baker's twine to hold the rolls together.
Heat up the oil in a roasting pan and fry the cabbage rolls until slightly brown. Remove the cabbage rolls from the pan and set aside.
Sauté the other half of the diced onions in the roasting pan until they are transparent. Fill the pan with the water and add in the tomato paste. Crumble the beef cube and add to the water. Mix with a whisk until tomato paste, and beef cube is dissolved. Place the cabbage rolls back into the roasting pan and cover it. Simmer for about 35–40 minutes. As the water evaporates, add more from time to time. Use kitchen tongs to remove the rolls and place them on a plate. Keep warm.
Add crème fraîche or sour cream. While the gravy is heating, stir with a whisk. Dissolve the corn starch in a cup with a little water and add the dissolved starch slowly to the gravy while constantly stirring. Continue until you have reached your desired texture for your gravy. Add salt and pepper to taste along with some paprika.Serve with mashed potatoes and cucumber salad.