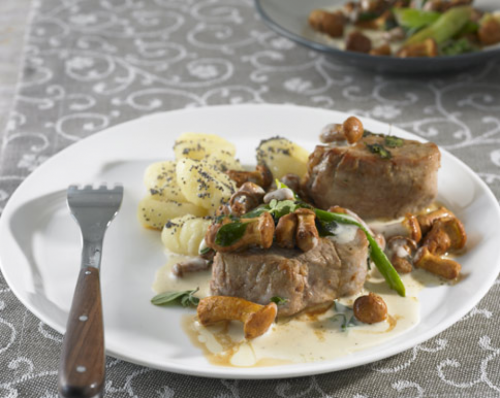 Ingredients:
1 pork tenderloin filet, cut into 8 equal slices
3 tbsp butter
1 lb whole mushrooms (chanterelles or champignons), quartered
1/2 cup finely chopped yellow onion
1 to 2 tablespoons chopped fresh parsley
salt, pepper
Directions:
Heat 1 tablespoon of butter in a large non-stick skillet over medium-high heat until butter begins to lightly brown. Sauté mushrooms and onions for 10 minutes or until vegetables begin to brown, stirring occasionally. Set aside in a bowl.

Using the same skillet, heat 1 tablespoon butter until melted and beginning to brown. Sprinkle pork slices with salt and pepper and put in the skillet.

Cook 4 minutes on each side. Set aside.

Place remaining pork medallions on serving platter. Return mushrooms, any accumulated juices and remaining 1 tablespoon of butter to skillet; cook 1 to 2 minutes or until mushrooms are glazed. Season with salt and pepper to taste. Spoon mushroom sauce over pork and sprinkle with parsley. Serve with Spätzle.





(Photo via essen-und-trinken.de)