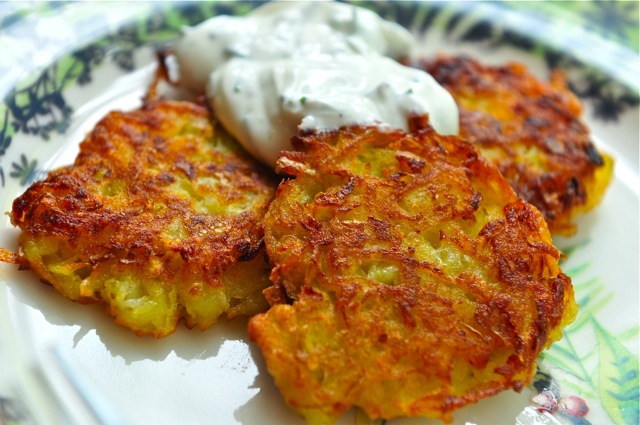 German potato pancakes are a quick and easy vegetarian dish. They are shallow-fried pancakes of grated or shredded potatoes, flour and eggs, often flavored with garlic or onion and seasoning. Potato pancakes may be topped with a variety of toppings, ranging from the savory (such as sour cream or cottage cheese) to the sweet (such as apple sauce or sugar), or they may be served ungarnished. Potato pancakes are sometimes made from mashed potatoes to produce pancake-shaped croquettes.
Apart from Kartoffelpuffer, potato pancakes are also known as Reibekuchen and Kartoffelpfannkuchen in Germany. Although the Reibekuchen always contain salt, they are often eaten with sweet applesauce or plum compote. On the salty side, they are eaten with liverwurst, or served with smoked salmon and sour cream. But the most traditional way to eat potato pancakes is with apple sauce.
Ingredients:
6 medium-size potatoes, washed, peeled and shredded
2 eggs, lightly beaten
1/2 cup flour
1/2 teaspoon sea salt
1/2 teaspoon freshly ground pepper
vegetable oil for frying
toppings (recipes below)
Directions:
Combine potatoes, beaten eggs, flour, salt and pepper in a large bowl and stir well, until flour is no longer visible.
Heat 1 inch of vegetable oil in a large skillet, and use a 1/4 cup measure to scoop three piles of potato mixture into hot oil. Let fry on medium-high heat about until golden brown, about 3 minutes.
Turn pancakes and press down with a spatula, flattening them as much as possible. Fry until golden brown, and remove onto paper towels. Repeat with remaining potato mixture.
Serve pancakes immediately.
Toppings:
Apple sauce

In a saucepan, combine 4 apples (cored and cut into medium chunks), 3/4 cup water, 1/4 cup sugar, and 1/2 teaspoon cinnamon. Cover, and cook over medium heat for 15 to 20 minutes, or until apples are soft. Allow to cool, then mash with a fork.

Black Forest Ham & Sauerkraut

Combine 2 cups sauerkraut in white wine, drained, and 4 slices of Black Forest ham, sliced into strips. Add 3 tablespoons light olive oil and 1 teaspoon sweet mustard. Add 1 teaspoon fresh thyme. Stir gently and serve.

Smoked Salmon & Spicy Crème Fraiche

Combine 6 ounces smoked salmon, 1 finely diced large scallion, 1/4 cup crème fraiche, 1 tablespoon creamy horseradish, and 1 teaspoon minced fresh dill. Stir gently and serve.

BBQ-Curry Chicken

Combine 3 tablespoons German curry ketchup, 3 tablespoons barbecue sauce, and 2 tablespoons balsamic vinegar in a saucepan. Add the shredded meat of 2 cooked boneless, skinless chicken breasts. Cook on low heat, stirring occasionally, until warm throughout.
Related Articles:
Brägele – Fried Potatoes
Schupfnudeln – German Potato Dumplings
Kartoffelklöße (German Potato Dumplings)
German-Style Fried Potatoes (Bratkartoffeln)
Crispy German Potato Pancakes (Kartoffelpuffer)