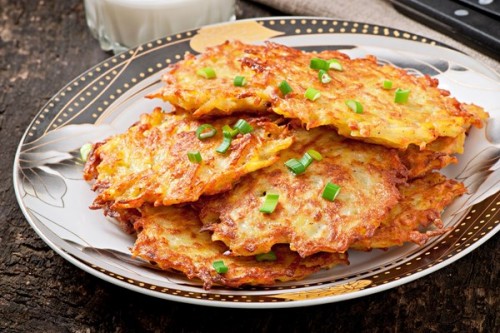 Golden, crispy fried German potato pancakes are a real treat and something Germans miss when they move away. Eating freshly made potato pancakes with applesauce at local outdoor weekly markets, Christmas markets or at Karneval or Fasching are some of the wonderful ways Germans indulge in this favorite German treat.
Ingredients:
2 eggs
2 tbsp all-purpose flour
1⁄4 tsp baking powder
1⁄2 tsp salt
1⁄4 tsp black pepper
6 medium potatoes, peeled and shredded
1⁄2 cup onions, finely chopped
1⁄4 cup vegetable oil
Preparation:
In a large bowl, beat together eggs, flour, baking powder, salt, and pepper. Mix in potatoes and onions.
Heat oil in a large skillet over medium heat. Working in batches, drop heaping tablespoonfuls of the potato mixture into the skillet. Press to flatten. Cook for about 3 minutes on each side until browned and crispy. Drain on paper towels.
Related Articles:
Brägele – Fried Potatoes
Schupfnudeln – German Potato Dumplings
Kartoffelpuffer (German Potato Pancakes)
Kartoffelklöße (German Potato Dumplings)
German-Style Fried Potatoes (Bratkartoffeln)