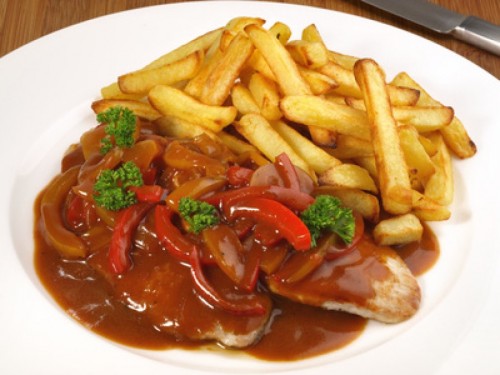 Paprikaschnitzel is a schnitzel served with a spicy sauce of bell peppers and onions. Great for fall or any time you crave something delicious!
Ingredients:
2 veal cutlets
1 egg
breadcrumbs for coating
oil
1/4 green bell pepper, diced
1/4 yellow bell pepper, diced
1/4 white onion, diced
1 tomato, seeded and diced
up to 1/2 cup beef broth
1/4 cup water
tomato paste to thicken
1 teaspoon paprika, mild or hot
shopping list
1/2 teaspoon chili powder
pepper to taste
Method:
Season breadcrumbs with salt and pepper. Beat egg in a separate bowl.
Pound veal cutlets thin if necessary, then dip into the beaten egg.
Let excess egg drip off cutlets and press cutlets into breadcrumbs.
Oil pan over medium-high heat and fry cutlets until golden brown. Set aside.
Put peppers, onions, and tomato into a sauté pan and let them brown before adding a few ounces of beef broth (I added no more than 1/2 cup).
Add water and a heaping teaspoon of tomato paste. Simmer to thicken.
Add paprika, chili powder, and white and black pepper to taste.
Serve gravy over cutlets.