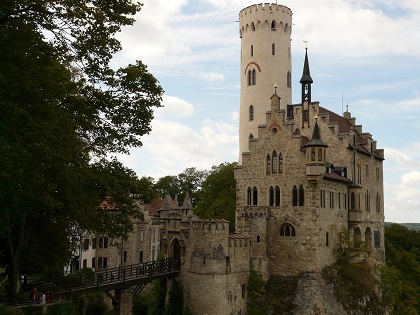 Lichtenstein Castle (Schloss Lichtenstein) is a Gothic Revival castle built in the 1840s. It is situated on a cliff located near Honau on the Swabian Alb, Baden-Württemberg, Germany.
A small fortress Lichtenstein standing on the rock which supports it and surrounding by ditches and numerous underground paths – the only ways for the fortress' inhabitants to escape during plunder. Why is this fortress so attractive for its visitors? Why do they say about it as very romantic, fantasy and favorite castle which creates in mind the historical fairy novels about medieval knights?
Like Neuschwanstein castle, Lichtenstein's construction was inspired by the legends survived and enlivened by German. The castle was initially built in 1200 as a fortress but it was destroyed after two centuries. The breath of inspiration to construct the castle near Honau, the count of Württemberg, again was given to Wilhelm of Urach, the Duke of Württemberg. The inspiring role belonged to the German writer Wilhelm Hauff who created a historical novel about Lichtenstein and presented its inhabitant, the Duke's family, as the legendary king full of dignity, braveness, morality and patriotism.
The Duke liked the novel very much and decided to construct the medieval knights' castle in 1840. The castle is still the residence of the Wurttemberg 's Duke family and its descendant, the Duchess, is living there now.
The fairy atmosphere inside the castle was created by the fascinating paintings such as the guard's portrait who is standing with a crossbow pointing straight to the castle's visitors. You can also see the death masks belonged to the famous Germans like Goethe, Schiller and the Duke himself. The little figures of the gnomes stark in different poses create the feeling of real fantasy world.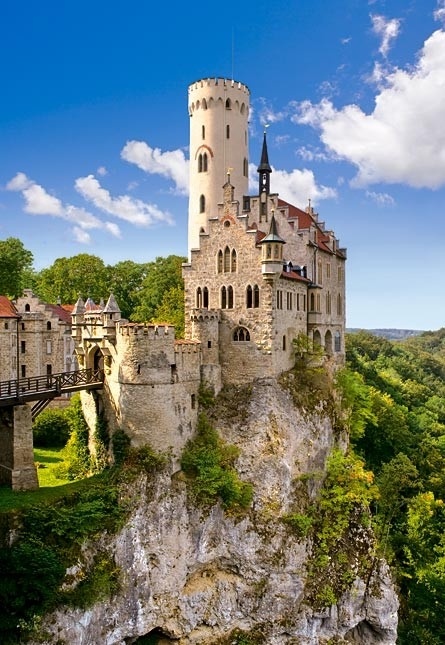 The view from the castle is fantastic: you can see the ditch around it and the cliff, the village below which gains the striking light in the sun because of the white stone…
Some Lichtenstein castle visitors could compare it as Neuschwanstein miniature reasoning the similarities in the Gothic elements. But most likely the people who have visited both castles could feel the medieval German legends which are still wandering around both castles.




Related articles:
Augustusburg castle – the German Heritage
Wartburg Castle- the Place of Luther's Inspiration
Neuschwanstein Castle