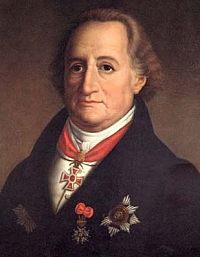 Johann Wolfgang von Goethe (1749-1832), German poet, playwright, novelist, and natural philosopher is best known for his two-part poetic drama Faust, (1808-1832) which he started around the age of twenty three and didn't finish till shortly before his death sixty years later. He is considered one of the greatest contributors of the German Romantic period.
Johann Wolfgang von Goethe was born on 28 August 1749 in Frankfurt, Germany; his father the Imperial Councillor Johann Kaspar Goethe (1710-1782) and his mother Katharina Elisabeth neé Textor (1731-1808).
Goethe's early years of education were inconsistent; informally from his father and then with tutors. However, he managed a grasp of Greek, Latin, French, and Italian by the age of eight, and his mother taught him well in the art of story-telling. At the age of sixteen, in 1765, Goethe went to Leipzig University to study law as his father wished, though he also gained much recognition from the Rococo poems and lyric he wrote during this period. In 1766 he fell in love with Anne Catharina Schoenkopf (1746-1810) and wrote his joyfully exuberant collection of poems Annette.

Generally recognized as one of the greatest and most versatile European writers and thinkers of modern times, Johann Wolfgang von Goethe had a great impact on the growth of literary romanticism. Best known for his lyrical poetry, novels, and particularly for his dramatic poem Faust, Goethe also made substantial contributions to biology and to the history and philosophy of science. He was without question one of the greatest figures of German culture, encompassing literature, science, music, and philosophy within his work. In awareness of all this Germany celebrated Goethe Year 1999.
Goethe's aesthetic theory was partially influenced by his friend Friedrich von Schiller (1759-1805), of whose journal Die Horen (1795-1797) he contributed articles to. During a congress of monarchs in Erfurt in 1808, Goethe met with Napoleon Bonaparte, an avid reader of his works. Faust Part I was published in 1808, Goethe's masterpiece of the courtly-mannered persona of Mephistopheles striking a deal with God (based on the same legend as Christopher Marlowe's Dr. Faustus).
In 1831 Goethe brought Faust to an end, sealing the manuscript and ordering it to be published only after his death. Fully expecting to recover from yet another fever and infection, Goethe died unexpectedly on 22 March 1832 in Weimar; it is said his last words were a request to a servant to open another shutter to let in more light, whilst Goethe traced letters in the air.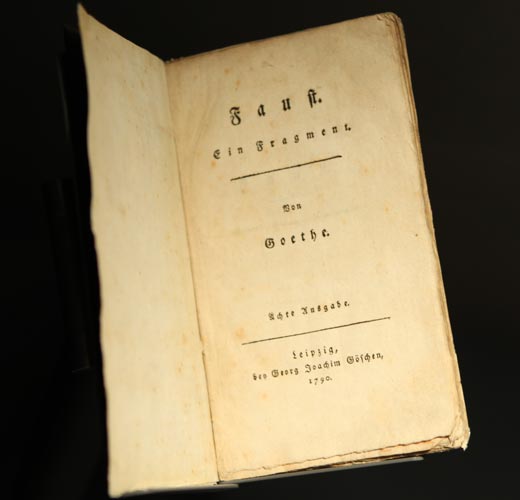 Goethe's life, bright from the very youth and till the old age, was full of love and passion. He fell in love with many women, and they served an inexhaustible source of his inspiration. Kaethchen and Friederike, Lili, Marianne, Christiane, both Charlotten, and Ulrike once occupied a great place in the master's life, but he valued his freedom too much, and therefore got married only in 1806, to legitimate his son August, born by Christiane Vulpius. All Goethe's passions are described in his six-volume autobiography, Aus meinem Leben: Dichtung und Wahrheit. To the extremes of Goethe's love life belongs also the suggestion of his homosexuality.
Goethe was and still remains the greatest German poet and one of the most famous writers of the world. He has left us the huge literary heritage, and by reading his beautiful works we will pay our tribute to Goethe's genius.




Author – Tatyana Gordeeva