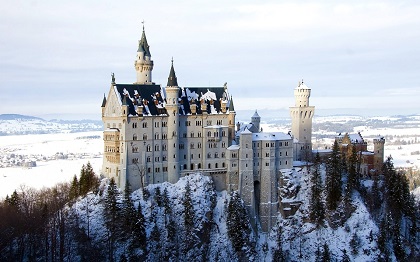 The Neuschwanstein castle was the most favorite place of the king Ludwig II, king of Bavaria conquered by Prussia after the war between alliance of Bavaria and Austria and Prussia.
Ludwig strove to make a reality of his happy childhood in his father's Hohenschwangau castle and create an ideal world of the Medieval Knights life. Although all his desires could not be realized in his real life he managed to reflect his dreams onto realistic constructions to be remained for centuries as vivid exhibits of his internal world. Therefore, Neuschwanstein castle is the only unique place where you can easily feel the Ludwig's period history.
Actually Ludwig dedicated the Neuschwanstein castle to Richard Wagner because he admired Wagner's music. However, this initial purpose was based on the roots of such admiration. Richard Wagner used beloved medieval legends and was inspired by their heroes. The main themes were devoted to the king Parsifal, his son knight Lohengrin and the poet Tannhauser. All these legendary figures remained in Ludwig's heart as ideal rulers and humans from the very childhood till his death. Wagner's music could present these people to the whole worlds and, therefore, Ludwig could not help admiring Wagner.
At last, Ludwig saw his close connection to the French Bourbon' royal family as his father's godfather was this family's descendant.
All these Ludwig's memories, desires, dreams and admirations incited him to start Neuschwanstein construction. Inevitably the castle's interior became the perfect reflection of Ludwig's lifestyle and its building demonstrated the mix of architectural styles which were prevailed: medieval Romanesque style, his father's rule time (mostly Gothic style as in Hohenschwangau), Bourbon's gorgeous Baroque style and, at last, modern inventions which influenced Romanesque architecture and created Neo – Romanesque course.
Neuschwanstein Castle's interior demonstrates Ludwig's desire to escape from the real world where he was not the king any more. He wanted to feel the Parsifal's legends of holy kingdom and, therefore, created a huge Throne Room with wall – pictures showing holy life of Parsifal and Lohengrin. He felt knight Lohengrin himself walking around the castle – his kingdom – and admiring Alpine sceneries, waterfalls and woods surrounding the castle. He managed to escape from imperfect and unbearable reality and stayed with his ideal world till the last day in 1886.




Related articles:
Augustusburg castle – the German Heritage
Wartburg Castle- the Place of Luther's Inspiration
Lichtenstein Fortress