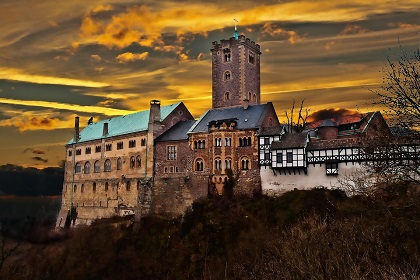 Wartburg Castle, located near town of Eisenach, is one of the oldest castles in Germany. It was founded by the German Duke Ludwig de Springer in 1067 AD. There is an amazing legend about the castle's name which was told to be given after the Duke saw the fascinating mountains and decided to build a castle right on that place.
The Eisenach lands belong to Thuringia, the German land in origin for over several centuries. However, this land was mostly a closed area of East Germany during Soviet rule. Still, the Wartburg Castle should appreciate Soviet times for perfect restoration of numerous rooms and internal interior.
Actually this castle was worth being restored as its name makes visitors remember attractive periods and outstanding people in Germany history. To tempt visitors, we should mention three things in the castle's history: Martin Luther, minstrels' contests and fantastic hilltop views from the castle's drawbridge.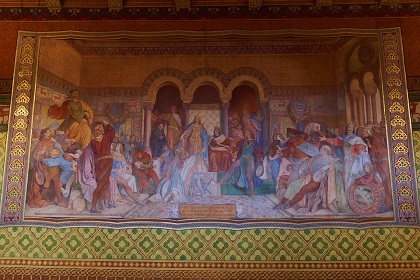 Minstrels' contests were kept in the castle in the era of the Middle Ages and we can still see the room specially designed for such competitions called Hall of the Minstrels. The room preserved the 12th century Romanesque architecture and design, and its interior is decorated with medieval frescoes illustrating famous winners of minstrels' contests. The frescoes on the walls and ceiling were so perfectly restored that you can easily imagine and take part in famous competitions and feel the merry festal atmosphere of the castle's medieval life.
The Wartburg drawbridge is one of the most amazing architectural parts of the huge castle. It draws great interest because of two reasons: this castle entrance has preserved its initial look and structure and it allows the visitors to see the breathtaking views of the Alps.
Actually the castle's architecture reminds of the best-known periods of its history: Romanesque, Gothic and Renaissance; and the impressive sizes of the castle's towers, the Great Hall with its Latin Cross on the top and numerous buildings within the castle territory impress visitors with their power and stability.
However the main reason of Wartburg's perfect integrity and care is its close connection with one of Martin Luther's most significant periods of life. Luther was exiled to this castle due to his Reformation leading. Some scholars admit that the very atmosphere of this castle inspired Luther to make an excellent translation of the New Testament into German and provide standards of the German language that are still being used today. His workroom vitally reflects his daily life in the castle. The excellently preserved medieval desk keeps the Bible with his comments on the margins and the walls hold the pictures of Luther and his wife painted by Cranach Lucas the Elder.
After a year-long exile Luther left the castle, but his Wartburg activity made numerous pilgrims visit the castle as one of the sacred places in Germany.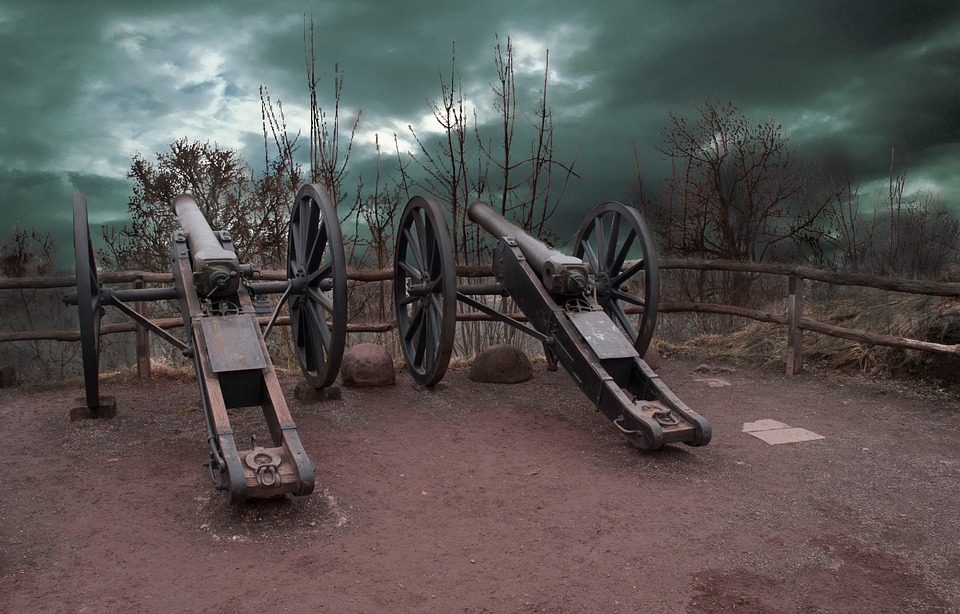 In 1999, UNESCO recognized Wartburg Castle as place worth being listed in the World Heritage List because of its preserved unique architecture and outstanding history. Thus, the castle has the national significance status and attracts thousands of tourists every year.




Related articles:
Augustusburg castle – the German Heritage
Neuschwanstein Castle
Lichtenstein Fortress