February 13
Feast Day of St. Jordan von Sachen (ca. 1200-1237)
Jordan was born in ca. 1200 near Osnabrück, Germany. He followed St. Dominic (the founder of the Dominican order) as the general of the order. He held that office from 1222-1237. He was a very talented administrator and led the order in establishing its enduring structure. He saw to the extensive education of Dominicans and established principles of piety. His preaching at universities attracted as many as 1,000 intellectuals to the order. The most noted of his recruits was St. Albert the Great (Albertus Magnus) (St. Albert was the teacher of St. Thomas Aquinas). He founded over 300 Dominican houses. He died at sea in 1237 while returning from Palestine. He is entombed in Akkko, Israel in the Dominican Church.
February 13, 1469
Birth of Elijah Levita in Neustadt an der Aisch, Germany. Levita was the leading scholar of the Hebrew language of his age producing dictionaries and grammars. Levita died in 1549 in Venice, Italy.
February 13, 1693
Death of Johann Caspar von Kerll in Munich, Germany. Kerll was a Baroque composer. He studied in Munich and then in Italy with Carissimi and Frescobaldi. He was the court opera conductor in Munich from 1656-1674 and organist of St. Stephen's Cathedral in Vienna from 1677-1684. He composed masses, requiems and Magnificats.
February 13, 1789
Death of the Romantic writer Wilhelm Wackenroder in Berlin, Germany.
February 13, 1805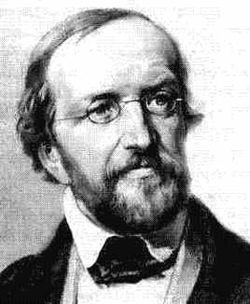 Birth of Peter Dirichlet (1805-1859) in Düren, Germany. Dirichlet was a mathematician who was active at the universities of Breslau, Berlin and Göttingen. He was a significant contributor to number theory. He developed the "Dirichlet problem" in the area of harmonic functions.
February 13, 1869
Friedrich Nietzsche appointed professor of philology at the University of Basel, Switzerland.
February 13, 1883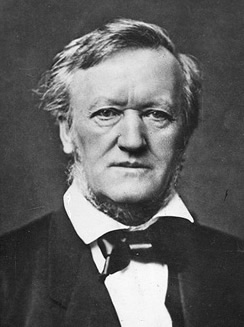 Death of Richard Wagner in Venice (born in Leipzig, Germany). Richard Wagner was a composer known primarily for his operas. Among the noted operas by Wagner are Der fliegende Holländer, Tännhäuser, Lohengrin, Tristan und Isolde, Die Meistersinger, Parzifal, and of course Der Ring des Nibelungen consisting of 4 operas, Das Rheingold, Die Walküre, Siegfrieds Tod and Die Götterdämmerung.
February 13, 1945
Start of the fire bombing of Dresden.
February 13, 1952
Death of Alfred Einstein in El Cerrito, California (born in Munich, Germany). Einstein (a cousin of the scientist Albert Einstein) was a musicologist and music critic. He was the critic for the Münchner Post until 1927 and then from 1927 to 1933 for the Berliner Tageblatt. With the rise of the Nazis he fled Germany. In 1939 he immigrated to the United States and became a professor of music at Smith College. He continued a brilliant career in musicology as an American.
Back to Today in German History Calendar