February 23, 1011
Death of St. Willigis von Mainz ( ? – 1011) St. Willigis was born to the family of a wagon builder in a village in Lower Saxony, Germany. He became the chancellor of Germany under the emperor Otto I. In 975 he became the Archbishop of Mainz. In 975 he was named the Primate of Germany by Pope Benedict VII. It was he who crowned Otto III in Aachen in 983 and 1002 crowned Heinrich II in Mainz. He participated in the consecration of the first German Pope, Gregory V in 996. He presided at the Synod of Frankfurt in 1007. He is entombed in the Church of St. Stephen in Mainz. His designation as a saint precedes the practice of canonization by a pope.
February 23, 1663
Death of Johannes Crüger in Berlin, Germany. Crüger was a composer and music theorist. He composed the music to Jesu, meine Freude, Nun danket alle Gott, and Herzliebster Jesu, was hast du verbrochen. His most important book of theory was Synopsis musica (1630). From 1622 until his death he was the cantor at the Nikolai Church in Berlin.

February 23, 1685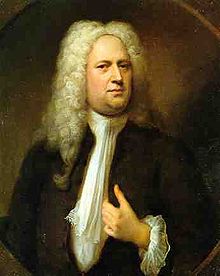 Birth of Georg Friedrich Händel (1685-1759) in Halle, Germany. Among his many great works, the composer is most known for his Messiah (1741), his Water Music (1717) and his Music for the Royal Fireworks (1749). Händel moved to Hamburg in 1703 and was active as a musical performer. In 1705 he presented his first opera, Almira. By 1710 he was at the court of the elector of Hannover, George. George would become the King of England in 1714 and call Händel to his court there. In England Händel changed his name to Handel and became a British subject.
February 23, 1744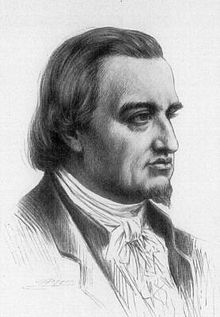 Birth of Mayer Amschel Rothschild (1744-1812) in Frankfurt, Germany. He was the founder of the Rothschild family international banking dynasty that became the most successful business family in history. In 2005, he was ranked 7th on the Forbes magazine list of "The Twenty Most Influential Businessmen of all Time". The business magazine referred to him as a "founding father of international finance".
February 23, 1749
Birth of Elisabeth Gertrud Mara (born Schmeling) in Kassel, Germany. She was an outstanding soprano of her day. In her later years she moved to Moscow in 1803 and acquired a great deal of property. Unfortunately it burned in 1812 in the struggle of Moscow against Napoleon. She died on January 20, 1833 in Tallinn, Estonia.
February 23, 1834
Death of Karl Ludwig von Knebel in Jena, Germany. Knebel was a poet and close friend of Johann Wolfgang von Goethe. It was Knebel who introduced Herzog Karl August to Goethe and arranged for Goethe to come to Weimar.
February 23, 1834
Birth of Gustav Nachtigal in Eichstedt, Germany. Nachtigal explored the Sahara in Africa. He was instrumental in gaining protectorate status for Germany (at Bismarck's direction) over Togo and Cameroon. Nachtigal died on April 19, 1885, at sea.
February 23, 1840
Birth of Carl Menger in Neu-Sandec, Austrian Empire (now in Poland). Menger, a professor of political economy at the University of Vienna is regarded as the founder of the "Austrian School" of economics. He is known for his work with the mutual dependency of utility, value and price. He wrote Grundsätze der Volkswirtschaftslehre in 1871. Menger died three days after his birthday in 1921.
February 23, 1842
Birth of Eduard von Hartmann in Berlin, Germany. Hartmann was a philosopher noted for his concern with the human will and uncontrolled unconscious drives. His most noted work was Die Philosophie des Unbewussten (1870). He was influenced by Schopenhauer but rose above Shopenhauer's pessimism as did his contemporary, Friedrich Nietzsche.
February 23, 1850
Birth of Cesar Ritz in Niederwald, Switzerland. Ritz learned the restaurant business in Paris and then began managing the Grand Hotel National in Lucerne, Switzerland. In 1887 he opened his own restaurant in Baden-Baden. He next managed the Savoy in London and in 1898 he opened his own hotel in Paris to which he gave his own name, the Ritz. He later opened another Ritz Hotel in London.
February 23, 1864
Birth of Wilhelm Streitberg in Rüdesheim, Germany. Streitberg was one of leaders in work on early Germanic languages. He wrote Urgermanische Grammatik (1896), Gotisches Elementarbuch (1897) and Die gotische Bibel (1910). Streitberg was a professor at the universities of Freiburg, Münster, Munich and Leipzig.
February 23, 1879
Death of Albrecht Theodor Graf von Roon in Berlin, Germany (now in Poland). Von Roon became the minister of war in 1859 and reorganized the Prussian army. His system led to the victory over Austria in the Seven Weeks' War and over France in the Franco-Prussian War.
February 23, 1883
Birth of Karl Jaspers in Oldenburg, Germany. Jaspers was a philosopher, often called an Existentialist. As a young man, Jaspers studied medicine and earned the MD. He then engaged in a research position in psychiatry, a field in which he quickly developed a reputation. He wrote Allgemeine Psychopathologie. In 1913 he became a member of the faculty of the department of philosophy at the University of Heidelberg. (Psychology at that time was still regarded as a part of philosophy.) In 1919 he published Psychologie der Weltanschauungen, a book which began to make his transition to the role of a philosopher. In 1931 he wrote Die geistige Situation der Zeit and in 1932 a three volume Philosophie. Hitler came to power in 1933 and Jaspers' wife was a Jew, which made him also suspect as anti-Semitism grew. In time he was removed from his professorship and banned from publishing. He was to be arrested by the Gestapo on April 14, 1945 but Heidelberg was occupied by the Americans on March 30th. He returned to his professorship after the war. In 1946 he wrote Die Idee der Universität and Die Schuldfrage. In 1948 he accepted an appointment at the University of Basel, Switzerland. He wrote Der philosophische Glaube in 1948, Der philosophische Glaube angesichts der Offenbarung in 1962, Die Atombombe und die Zunkunft des Menschen in 1958 and Wohin treibt die Bundesrepublik in 1966. Jaspers died on February 26, 1969 in Basel, Switzerland.
February 23, 1899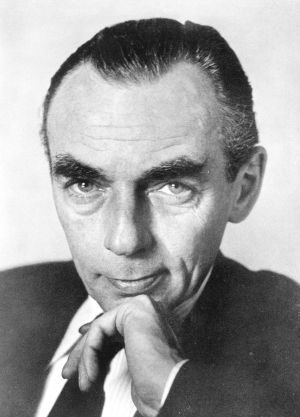 Birth of Erich Kästner (1899-1974) in Dresden, Germany. Kästner was a poet and novelist known for his children's books. Noted works by Kästner include Fabian (1931), Emil und die Detektive (1929) and Als ich ein kleiner Junge war (1957).
February 23, 1899
Birth of Elizabeth Langgässer in Alzey, Germany. She was a German author and teacher known for lyrical poetry and novels.
Back to Today in German History Calendar