June 22, 1767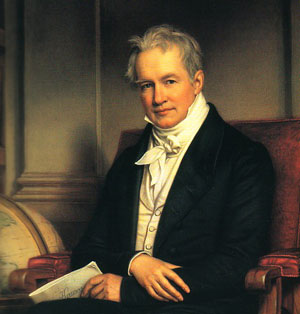 Birth of Wilhelm von Humboldt in Potsdam, Germany. Friedrich Wilhelm Christian Karl Ferdinand von Humboldt (22 June 1767 – 8 April 1835) was a Prussian philosopher, government functionary, diplomat, and founder of the Humboldt University of Berlin, which was named after him in 1949 (and also after his younger brother, Alexander von Humboldt, a naturalist).
He is especially remembered as a linguist who made important contributions to the philosophy of language and to the theory and practice of education. In particular, he is widely recognized as having been the architect of the Humboldtian education ideal, which was used from the beginning in Prussia as a model for its system of education and eventually in countries such as the US and Japan.
June 22, 1803
Death of Wilhelm Heinse in Aschaffenburg, Germany. Heinse was a novelist and literary critic who wrote in the Sturm und Drang style. His novel, Ardinghello und die glückseligen Inseln (1787) is the most remembered of his works.
June 22, 1805
Birth of poet and novelist, Ida Gräfin von Hahn-Hahn, in Tressow, Germany.
June 22, 1898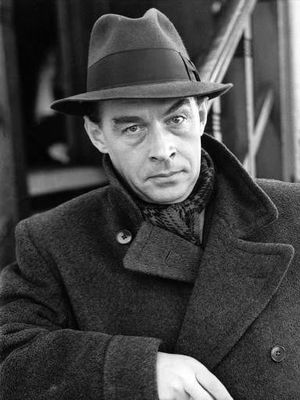 Birth of the novelist, Erich Maria Remarque (1898-1970) in Osnabrück, Germany. His most known novel is Im Westen nichts Neues (All Quiet on the Western Front). Erich worked at a number of different jobs, including librarian, businessman, teacher, journalist and editor. His first paid writing job was as a technical writer for the Continental Rubber Company, a German tyre manufacturer. At the age of 16, Remarque had made his first attempts at writing; this included essays, poems, and the beginnings of a novel that was finished later and published in 1920 as The Dream Room (Die Traumbude). When he published All Quiet on the Western Front, Remarque changed his middle name in memory of his mother and reverted to the earlier spelling of the family name to dissociate himself from his novel Die Traumbude. The original family name, Remarque, had been changed to Remark by his grandfather in the 19th century. During the 1930s, Remarque had relationships with Austrian actress Hedy Lamarr and then with Marlene Dietrich. The love affair with Dietrich began in September 1937 when they met on the Lido while in Venice for the film festival and continued through at least 1940, maintained mostly by way of letters, cables and telephone calls. A selection of their letters were published in 2003 in the book Sag Mir, Dass Du Mich Liebst (Tell Me That You Love Me) and then in the 2011 play Puma. Remarque married actress Paulette Goddard in 1958 and they remained married until his death in Locarno on 25 September 1970, aged 72.
June 22, 1906
Birth of Billy (originally Samuel) Wilder in Sucha, Austria. He immigrated to the U. S. A. where he became a renowned movie director. Among his best known films are Sabrina, The Seven Year Itch, Some like it Hot and One, Two, Three. Wilder died in California on March 28, 2002.
June 22, 1910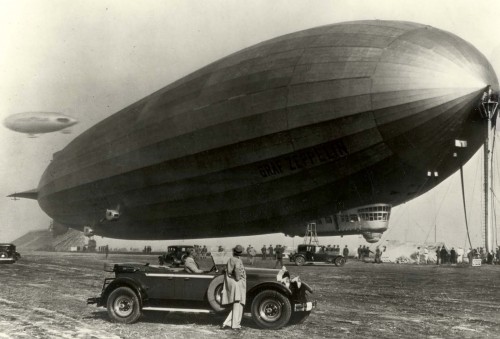 The first passengers are taken up in an airship, the German Zeppelin, invented by and named after Ferdinand von Zeppelin.
The principal feature of Zeppelin's design was a fabric-covered rigid metal framework made up from transverse rings and longitudinal girders containing a number of individual gasbags. The advantage of this design was that the aircraft could be much larger than non-rigid airships, which relied on a slight overpressure within the single pressure envelope to maintain their shape. The framework of most Zeppelins was made of duralumin (a combination of aluminum and copper as well as two or three other metals— its exact content was kept a secret for years). Early Zeppelins used rubberised cotton for the gasbags, but most later craft used goldbeater's skin, made from the intestines of cattle.
June 22, 1936
Death of Moritz Schlick in Vienna, Germany. Schlick was a philosopher of the Positivist school. He studied at the Universities of Heidelberg, Switzerland and Berlin. His doctorate from Berlin was in physics. He became a professor of philosophy at the University of Vienna. In his work he attempted to bring the methods of the natural sciences to bear on philosophy. Among his books are, Allgemeine Erkenntnislehre (1918) Raum und Zeit in der gegenwärtigen Physik (1919), Fragen der Ethik (1930), and Grundzüge der Naturphilosophie (1948).
June 22, 1941
Germany attacks the Soviet Union in WWII.
Back to Today in German History Calendar