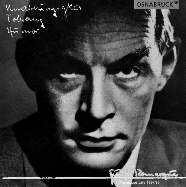 Remarque is one of the most popular and most widely-read authors of German literature in the 20th century. His works have been translated in more than 50 languages.
Erich Maria Remarque was born on June 22, 1898 in Osnabrueck, Germany, where the Erich Maria Remarque Gesellschaft was afterwards founded. He was born as Erich Paul Remark, or, as some sources insist, as Erich Paul Kramer. Later, in 1929, he changed his middle name to Maria, his mother's middle name, and his surname to Remarque – family name Kramer spelled backwards. The difficult financial situation in Remarque's family caused his early work. As a teenager he began giving piano lessons to earn money to buy nice clothes. Remarque had luxurious tastes throughout his life. Raised as a Roman Catholic, he developed a love for the beauty of churches and the deep sense of the religious rituals. He admired music and nature, which he believed to be true representations of peace and beauty.
In 1916, Remarque, a third-year student at a teachers' training college, was drafted into the German army. He served on the Western front and was several times wounded. Profoundly changed by the war, Remarque returned to the college after the peace was resumed in 1918, but the civilian life seemed almost unreal and ridiculous after what he and his friends experienced during the war. Before choosing the career of a writer, Remarque tried a series of jobs from stonecutter and a test-cardriver to sports journalist. Nothing seemed to appeal to him.
Remarque acquired the world fame after his novel All Quiet On the Western Front (Im Westen nichts Neues) was published in 1929. In 1930 the novel was filmed which brought even more fame ad success to Remarque. It was an extraordinary anti-war story, which was mostly due to Remarque's personal participation in WWI. It was not originally written to be published, but to express the writer's pure negative attitude towards the war and the disillusion that the author and other soldiers had experienced since the end of the war.
In 1933, Remarque's books were banned by the Nazi. Both anti-war All Quiet on the Western Front and politically neutral The Road Back (Der Weg zurueck) were among the works supposed to be publicly burnt in 1933 by the Nazi. The premiere of All Quiet… was disrupted by Nazi gangs. In 1938 Remarque lost his German citizenship and left Germany. In 1943 his sister was beheaded by the Nazi just for being associated with the world-famous writer.
Remarque went first to Switzerland and moved later to the United States, where he received citizenship in 1947. He entered the Hollywood society and became a prominent member of the social scene, associating with Charles Chaplin, Greta Garbo, and Marlene Dietrich. It was Marlene Dietrich who inspired the uprise of the novel Arch of Triumph (Arc de Triomphe) in 1945. It depicts a story of a German refugee physician and an actress. In 1958 Remarque married a beautiful Hollywood actress Paulette Goddard (1911-1990), with whom he happily lived until his death in Locarno, Switzerland, in 1970.