June 30, 1807
Birth of Friedrich Theodor von Vischer in Ludwigsburg, Germany. A literary critic, he set the theoretical basis for the period of realism in literature.
June 30, 1853
Birth of archaeologist Adolf Furtwängler in Freiburg, Germany. His catalogs of ancient Greek art established an historic order. He was Professor of Archaeology at the University of Munich.
June 30, 1893
Birth of Walter Ulbricht in Leipzig, Germany. Ulbricht gained power in East Germany after the death of Wilhelm Pieck in 1960.
June 30, 1934
Death of Ernst Röhm in Munich, Germany. Röhm was a member of the National Socialist Party (Nazi) before Hitler. He organized the SA (Sturmabteilung/ storm troops; also called the Brownshirts). By 1934 Hitler began to see Röhm as a rival and began to be concerned about the power of the SA. He had Röhm shot.
June 30, 1939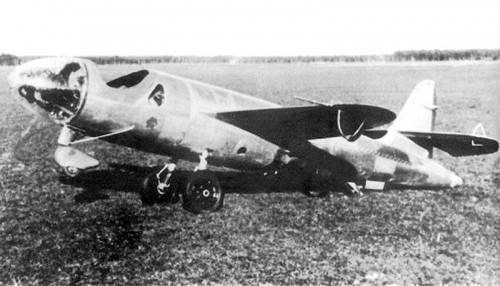 The Heinkel rocket plane makes its first flight at Peenemünde, Germany. The Heinkel He 176 was a German rocket-powered aircraft. It was the world's first aircraft to be propelled solely by a liquid-fuelled rocket, making its first powered flight on 20 June 1939 with Erich Warsitz at the controls. It was a private venture by the Heinkel company in accordance with director Ernst Heinkel's emphasis on developing technology for high-speed flight. The performance of the He 176 was not spectacular, but it did provide "proof of concept" for rocket propulsion.
All documents regarding the He 176 were destroyed during the war. The often quoted performance data of the aircraft, such as a speed reaching 750 km/h, as well as some of the drawings, are not based on sound documents. Only two true pictures of the He 176 have survived which were probably taken in Peenemünde during tests.
June 30, 1946
The Soviet Union closes the border between their zone of occupation and those of the Western Powers. The "Interzone Pass" is introduced.
June 30, 1995
The Bundestag votes to send German troops to Bosnia as a part of the international peace keeping mission.
June 30, 1996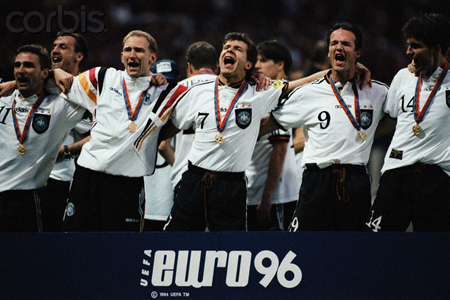 Germany won the 1996 European soccer championship, beating the Czech Republic 2:1 with a golden goal during extra time; this marked the first major football competition to be decided using this method. This was Germany's first major title won while a unified nation.
June 30, 1999
After a loss at Wimbledon Boris Becker announces that he will end his tennis career.
Back to Today in German History Calendar