September 25, 1555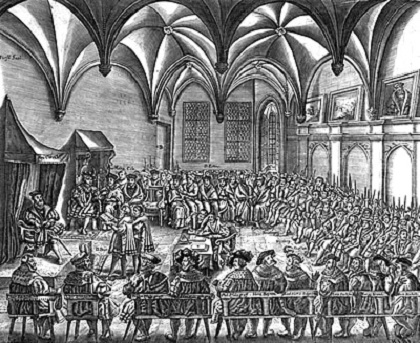 Peace of Augsburg takes effect ending conflicts for a time between Catholics and Protestants. The Peace of Augsburg refers to a settlement between Charles V, Holy Roman Emperor, and the Lutheran princes that accorded Lutheran churches legal status in Germany. This settlement resolved the conflict on a state level but did not resolve any of the theological issues in the Reformation.
September 25, 1852
Birth of Hans Vaihinger in Nehren, Germany. He was a philosopher influenced by Kant and Schopenhauer. His most renowned book is Die Philosophie des Als Ob.
September 25, 1920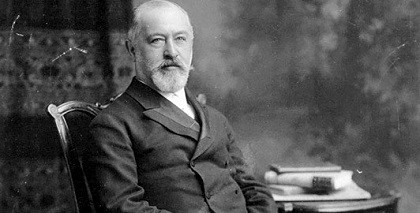 Death of Jacob Schiff in New York City (born in Frankfurt am Main, Germany). Schiff immigrated to the United States in 1865 where he would become one of America's leading railroad bankers. He was the head of the investment bank, Kuhn, Loeb and Company. His financial backing led to Edward Harriman taking control of the Union Pacific Railroad. He later backed Harriman in his struggle with James J. Hill and J. P. Morgan for control of the Northern Pacific Railroad. In his later years he became a philanthropist and was a major donor to Harvard and Cornell universities and to the American Red Cross.
September 25, 1931
Death of Ulrich von Wilamowitz-Moellendorff in Berlin, Germany. Wilamowitz-Moellendorff was a classicist at the University of Berlin. He is noted for his outstanding work, primarily in Greek studies. He effectively crippled the classics career of Friedrich Nietzsche through his scathing review of Nietzsche's first book, Die Geburt der Tragödie. Nietzsche at that time was a young professor at the University of Basel.
September 25, 1939
A peace treaty is signed between Germany and Andorra ending WWI. (Andorra had not been included in the Versailles Treaty.)
September 25, 1969
Death of Paul Scherrer in Sankt Gallen, Switzerland. A physicist, Scherrer worked with Peter Debbie on X-ray diffraction analysis. The Debye-Scherrer method is important in identifying materials which do not easily form large crystals. Scherrer was professor of physics at the University of Zürich.
September 25, 1970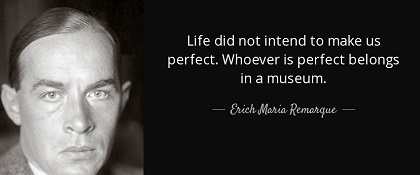 Death of the novelist Erich Maria Remarque in Locarno, Switzerland. His most known novel is Im Westen nichts Neues (All Quiet on the Western Front.) He fought in the German army during World War I, suffering the plight of returning veterans in Weimar Germany. He turned this experience into All Quiet, one of the most influential novels of our time. With the wealth he gained from the popularity of All Quiet, he became one of the century's first playboys. He also became a connoisseur of fine art and antiques, collecting an outstanding group of Impressionist and Post-Impressionist art. The perception of All Quiet as a pacifist novel and Remaque's heartfelt indignation about human suffering made him a spokeman against fascism in all forms, especially during World War II. His literary career made him the center of the publishing world for decades. It also opened the door to the world of cinema, through which he entered the world of glamour. His numerous lovers included Marlene Dietrich and Natasha Paley Wilson, and he counted among his friends Ingrid Bergman, Greta Garbo, and many other Hollywood stars.
September 25, 1991
Death of the "Butcher of Lyon", Klaus Barbie, in Lyon, France. Barbie was the head of the Gestapo in Lyon from 1942-1944. He had 4,000 people executed and over 7,000 deported. After WWII American forces employed him in counterintelligence and then moved him to Bolivia where he led a life as a businessman named Klaus Altmann. He was found in 1972 and extradited to France. In 1987 he was tried in Lyon for crimes against humanity and sentenced to life in prison.