Jakob Ludwig Felix Mendelssohn Bartholdy (born on February 3, 1809 – died on November 4, 1847), born and widely known as Felix Mendelssohn, was a German composer, pianist, organist and conductor of the early romantic period. Felix Mendelssohn wrote Overture to a Midsummer Night's Dream and founded the Leipzig Conservatory of Music.
A grandson of the philosopher Moses Mendelssohn, Felix Mendelssohn was born into a prominent Jewish family. He was brought up without religion until the age of seven, when he was baptized as a Reformed Christian. Felix was recognized early as a musical prodigy, but his parents were cautious and did not seek to capitalize on his talent.
Mendelssohn enjoyed early success in Germany, and revived interest in the music of Johann Sebastian Bach, notably with his performance of the St Matthew Passion in 1829. He became well-received in his travels throughout Europe as a composer, conductor and soloist. His ten visits to Britain  – during which many of his major works were premiered – formed an important part of his adult career. His essentially conservative musical tastes set him apart from more adventurous musical contemporaries such as Franz Liszt, Richard Wagner, Charles-Valentin Alkan and Hector Berlioz. The Leipzig Conservatoire, which he founded, became a bastion of this anti-radical outlook.
Mendelssohn's parents were Jewish, but converted to Christianity before he, his brother and two sisters were born. When Mendelssohn was 2 years old, he moved to Berlin with his parents and siblings. In Berlin, the young Mendelssohn began taking piano lessons with Ludwig Berger. Mendelssohn also studied composition under composer K.F. Zelter as a child. In 1816, he broadened his lessons, studying under pianist Marie Bigot during an extended stay in Paris, France.
During his childhood, he composed a handful of operas and 11 symphonies. At just 9 years old, he made his public debut in Berlin.
In 1819, Felix Mendelssohn joined the Singakademie music academy and began composing non-stop. In 1820 alone, he wrote a violin sonata, two piano sonatas, multiple songs, a cantata, a brief opera and a male quartet. In 1821 his teacher Carl Friedrich Zelter introduced Mendelssohn to his friend and correspondent Johann Wolfgang von Goethe (then in his seventies), who was greatly impressed by the child, leading to perhaps the earliest confirmed comparison with Mozart in the following conversation between Goethe and Zelter.
In 1826, Mendelssohn produced one of his best known works, Overture to a Midsummer Night's Dream. His "Wedding March" in C major, written in 1842, is one of the best known of the pieces from his suite of incidental music (Op. 61) to Shakespeare's play A Midsummer Night's Dream.  It is one of the most frequently used wedding marches, generally being played on a church pipe organ.
At weddings in many Western countries, this piece is commonly used as a recessional, though frequently stripped of its episodes in this context. It is frequently teamed with the "Bridal Chorus" from Richard Wagner's opera Lohengrin, or with Jeremiah Clarke's "Prince of Denmark's March", both of which are often played for the entry of the bride.
The first time that Mendelssohn's "Wedding March" was used at a wedding was when Dorothy Carew wed Tom Daniel at St Peter's Church, Tiverton, England, on 2 June 1847 when it was performed by organist Samuel Reay. However, it did not become popular at weddings until it was selected by Victoria, The Princess Royal for her marriage to Prince Frederick William of Prussia on 25 January 1858. The bride was the daughter of Queen Victoria, who loved Mendelssohn's music and for whom Mendelssohn often played while on his visits to Britain. 
At Singakademie, Mendelssohn also became a conductor. In 1829, he conducted a performance of Bach's St. Matthew Passion. The performance's success led to other great opportunities, including a chance to conduct the London Philharmonic Society that same year.
In 1836, a year after his father died, Mendelssohn met Cécile Jeanrenaud, a clergyman's daughter, in Frankfurt. Mendelssohn was 10 years Jeanrenaud's senior. She was just 16 when they got engaged. The couple married on March 28, 1837. Over the course of their marriage, they had five children.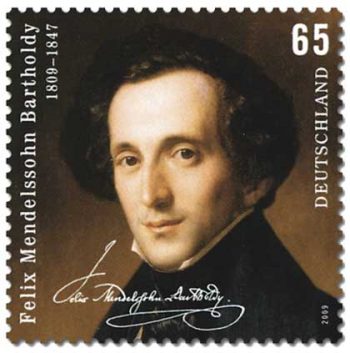 The same year that he married, Mendelssohn composed his Piano Concerto No. 2 in D Minor. From 1838 to 1844, he toiled away on his Violin Concerto in E Minor. Prior to the piece's completion, Mendelssohn founded the Leipzig Conservatory of Music and became its director. In so doing, he put Leipzig on the map as the musical center of Germany. After finishing Violin Concerto in E Minor, Mendelssohn conducted a string of concerts for the Philharmonic. In 1846 he presented his newly written Elijah at the Birmingham Festival.
In May 1847, Mendelssohn's sister, Fanny, who was a lifelong inspiration to him, died suddenly. Her death left him so devastated that he soon lost his own zest for life. His health, already compromised by his strenuous career, began to deteriorate rapidly. Six months later, on November 4, 1847, Felix Mendelssohn died of a ruptured blood vessel in Leipzig, Germany. He had recently returned from a brief visit to Switzerland, where he'd completed composition of his String Quartet in F Minor.
Although he was only 38 when he died, Mendelssohn managed to distinguish himself as one of the first significant Romantic composers of the 1800s.