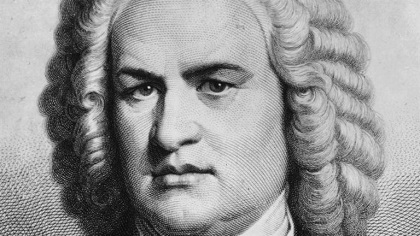 Johann Sebastian Bach (March 21, 1685 – July 28, 1750) was the master of Baroque composition who in his later years held the post of music director in Leipzig, Germany. Bach's abilities as an organist were highly respected throughout Europe during his lifetime, although he was not widely recognised as a great composer until a revival of interest and performances of his music in the first half of the 19th century. He is now generally regarded as one of the main composers of the Baroque period, and as one of the greatest composers of all time.
Early years
For Johann Sebastian Bach, music was a part of his DNA. He came from a family of musicians, stretching back several generations. His father, Johann Ambrosius, worked as the town musician in Eisenach, and it is believed that he taught his son Johann Sebastian to play the violin.
At age of 7, Bach went to school where he received religious instruction and studied Latin and other subjects. His Lutheran faith would influence his later musical works. By the time he turned 10, Bach found himself an orphan after the death of both of his parents. His older brother Johann Christoph, a church organist in Ohrdruf, took him in. Johann Christoph provided some further musical instruction for his younger brother and enrolled him in a local school. Bach stayed with his brother's family until he was 15.
Bach had a beautiful soprano singing voice, which helped him land a place at a school in Lüneburg. Sometime after his arrival, his voice changed and Bach switched to playing the violin and the harpsichord.
Working for the Royalty
in 1708, Bach won the post of organist at the court of the Duke Wilhelm Ernst in Weimar. He wrote many church cantatas and some of his best compositions for the organ while working for the duke. During his time at Weimar, Bach wrote "Toccata and Fugue in D Minor," one of his most popular pieces for the organ. He also composed the cantata "Herz und Mund und Tat," or Heart and Mouth and Deed. One section of this cantata, called "Jesu, Joy of Man's Desiring" in English, has become especially famous.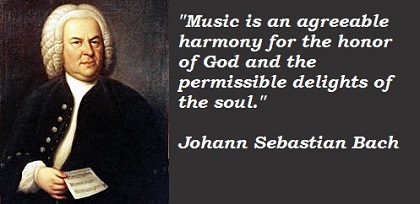 Leopold, Prince of Anhalt-Köthen hired Bach to serve as his Kapellmeister (director of music) in 1717. Prince Leopold, himself a musician, appreciated Bach's talents, paid him well, and gave him considerable latitude in composing and performing. The prince was Calvinist and did not use elaborate music in his worship; accordingly, most of Bach's work from this period was secular, including the Orchestral Suites, the Six Suites for Unaccompanied Cello, the Sonatas and Partitas for Solo Violin, and the Brandenburg Concertos. Bach also composed secular cantatas for the court such as the Die Zeit, die Tag und Jahre macht, BWV 134a.
Despite being born in the same year and only about 80 miles apart, Bach and Handel never met. In 1719 Bach made the 20 mile journey from Köthen to Halle with the intention of meeting Handel, however Handel had recently departed the city.[35] In 1730, Bach's son Friedmann travelled to Halle to invite Handel to visit the Bach family in Leipzig, however the visit did not eventuate.
On 7 July 1720, while Bach was abroad with Prince Leopold, Bach's first wife suddenly died. The following year, he met Anna Magdalena Wilcke, a young, highly gifted soprano 17 years younger than he was who performed at the court in Köthen; they married on 3 December 1721. Together they had 13 more children, six of whom survived into adulthood: Gottfried Heinrich, Johann Christoph Friedrich, and Johann Christian, all of whom became significant musicians; Elisabeth Juliane Friederica (1726–81), who married Bach's pupil Johann Christoph Altnikol; Johanna Carolina (1737–81); and Regina Susanna (1742–1809).
of Music in the principal churches in the town, namely the Nikolaikirche and the Paulinerkirche, the church of the University of Leipzig. This was a prestigious post in the mercantile city in the Electorate of Saxony, which he held for 27 years until his death. It brought him into contact with the political machinations of his employer, Leipzig's city council.
He was required to teach at the Thomas School as a part of his position as well. With new music needed for services each week, Bach threw himself into writing cantatas. The "Christmas Oratorio," for example, is a series of six cantatas that reflect on the holiday.
Bach also created musical interpretations of the Bible using choruses, arias and recitatives. These works are referred as his Passions, the most famous of which is "Passion According to St. Matthew." This musical composition, written in 1727 or 1729, tells the story of chapters 26 and 27 of Gospel of Matthew. The piece was performed as part of a Good Friday service.
One of his later religious masterworks is "Mass in B minor." He had developed sections of it, known as Kyrie and Gloria, in 1733, which were presented to the Elector of Saxony. Bach did not finish the composition, a musical version of a traditional Latin mass, until 1749. The complete work was not performed during his lifetime.
Final Years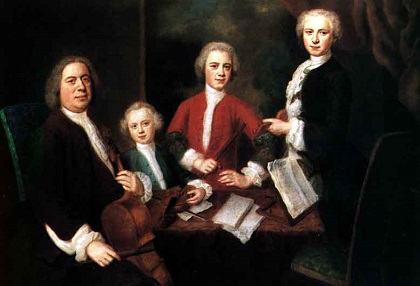 By 1740, Bach was struggling with his eyesight, but he continued to work despite his vision problems. He was even well enough to travel and perform, visiting Frederick the Great, the king of Prussia in 1747. He played for the king, making up a new composition on the spot. Back in Leipzig, Bach refined the piece and gave Frederick a set of fugues called "Musical Offering."
In 1749, Bach started a new composition called "The Art of Fugue," but he did not complete it. He tried to fix his failing sight by having surgery the following year, but the operation ended up leaving him completely blind. Later that year, Bach suffered a stroke. He died on July 28, 1750.
During his lifetime, Bach was better known as an organist than a composer. Few of his works were even published during his lifetime. Still Bach's musical compositions were admired by those who followed in his footsteps, including Amadeus Mozart and Ludwig van Beethoven. His reputation received a substantial boost in 1829 when German composer Felix Mendelssohn reintroduced Bach's "Passion According to St. Matthew."
Musically, Bach was a master at invoking and maintaining different emotions. He was an expert storyteller as well, often using melody to suggest actions or events. In his works, Bach drew from different music styles from across Europe, including French and Italian. He used counterpoint, the playing of multiple melodies simultaneously, and fugue, the repetition of a melody with slight variations, to create richly detailed compositions. He is considered to be the best composer of the Baroque era, and one of the most important figures in classical music in general.