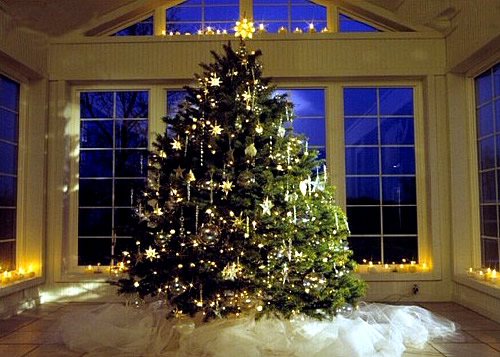 The first appearance of a Christmas tree – Tannenbaum – was recorded in 1605 in Strasburg, and the record said that "…people set up Christmas trees in their rooms…". Another record of that time coming from Ammerschweier, said that "… no burgher shall have for Christmas more than one bush of more than eight shoes' length…". The decorations hung on a tree of that time were "roses cut of many-colored paper, apples, wafers, gilt, sugar". However the Christmas tree tradition dates back to the middle of the 16th century when the first of "Tannenbaum" ballads appeared in printing. By the 19th century the tradition spread across Germany and abroad. It was due to the royal Germans that the custom of decorating a tree for Christmas crossed German borders, and reached the United States.
People use different festive ornaments, nuts, candies, and candles to decorate the tree. Once the real wax candles were used, and people learnt how to make it safely: the candles were not left to burn for a long time, and not without someone in the room. It is a widely held belief that Martin Luther, the sixteenth-century Protestant reformer, first added lighted candles to a tree. Walking toward his home one winter evening, composing a sermon, he was awed by the brilliance of stars twinkling among the evergreens. To recapture the scene for his family, he erected a tree in the main room and wired its branches with lighted candles. Nowadays more and more electric candle lights replace their wax predecessors.
In some parts of Germany it is a tradition on the 26th of December to visit friends and praise their Christmas tree. This is called "Christbaumloben". Mostly you ring at the door and when someone opens and lets you in, you look at the tree and say "A nice tree!" (in German: "Ein schoener Baum!")
Why do people do such a crazy thing? Because, normally those who praise the tree will receive a little glass of alcoholic drink, mostly some sort of brandy. After they get their drink, the visitors normally sit down for a while, talking and eating some cookies, perhaps praising the tree one more time ("A VERY nice tree!").
Such visits are not too long, because people don't visit only one person: normally there are around ten different persons visited, and of course ten different trees praised. As you can guess now, these evenings end often in drunk people, but it is also very funny.




Related Articles:
German Christmas Traditions
Christmas traditions in Germany
Christmas Celebration in Germany
Advent in Germany – Four Weeks Left till Christmas!
German Christmas Markets – Christmas Shopping in Germany
Christ Child – Christkind