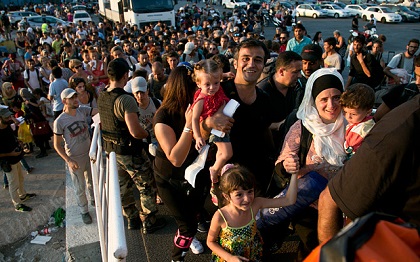 The right to asylum enjoys constitutional status in Germany.
Political persecutees are afforded asylum in Germany in accordance with Article 16a of the Basic Law (GG) of the Federal Republic of Germany.
As in many other countries, the right to asylum is guaranteed in Germany not only on the basis of the obligation under international law arising from the Geneva Convention on Refugees of 1951, but also has constitutional status as a fundamental right. It is the only fundamental right that is only accorded to foreign nationals.
Persecution is considered to be political if it causes specific violations of rights to the individual – in connection with his/her political convictions, choice of religious belief or intangible characteristics that mark him/her out as being different – which, due to their intensity, exclude that person from the general peace framework of the state unit. The right to asylum serves to protect human dignity in a more comprehensive sense.
To atone for the crimes of the Third Reich, Article 16/2 of West Germany's Basic Law offers liberal asylum rights to those suffering political persecution. Until the 1980s, relatively few refugees took advantage of this provision. But in the second half of the decade, a new class of "jet-age refugees" began to make its way to Europe and especially to West Germany, which accepted more than any other West European country. In the mid-1980s, many refugees came from Iran and Lebanon. By 1991 most refugees originated in regions of war-torn former Yugoslavia, Romania, or Turkey. From 1986 to 1989, about 380,000 refugees sought asylum in West Germany. By comparison, in the 1990-92 period, nearly 900,000 people sought refuge in a united Germany.
Although only about 5 percent of requests for asylum are approved, slow processing and appeals mean that many refugees remain in Germany for years. Because financial aid is also provided for the refugees' living expenses, their presence has become a burden on federal and local government. The resulting social tensions made imperative an amendment to the constitutional provision regarding asylum. After heated debate, in 1993 the Bundestag passed legislation that amended the Basic Law and tightened restrictions on granting asylum. One important change is that asylum-seekers are no longer to be admitted into Germany if they have applied from a third country. In addition, more funds are to be allotted to processing applications, so that asylum-seekers remain in Germany for shorter periods.
Related articles:
German Population
Immigration In Germany
Foreigners In Germany
Ethnic Germans