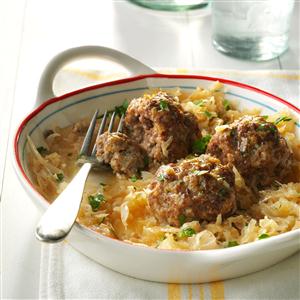 Great dinner idea for those cold winter days. For variety, these meatballs can be cooked with a sweet cream gravy or steamed with tomatoes. Most people prefer them with homemade sauerkraut or mashed potatoes.
Ingredients:
400 g ground beef
250 g pound ground pork
1/2 cup finely chopped onion
3/4 cup dry bread crumbs
1 tablespoon fresh chopped parsley
1-1/2 teaspoons salt
1/8 teaspoon pepper
1 teaspoon Worcestershire sauce
1 large egg, beaten
1/2 cup milk
2 to 3 tablespoons vegetable oil
1 can (800 g) sauerkraut, undrained
1/3 to 1/2 cup water, optional
additional chopped parsley
Directions:
In a bowl, combine first 10 ingredients; shape into 18 meatballs, ~5 cm each.

Heat the oil in a skillet; brown the meatballs. Remove meatballs and drain fat.

Spoon sauerkraut into skillet; top with meatballs.

Cover and simmer for 15-20 minutes or until meatballs are cooked through, adding water if necessary. Sprinkle with parsley.
(Photo via www.tasteofhome.com)