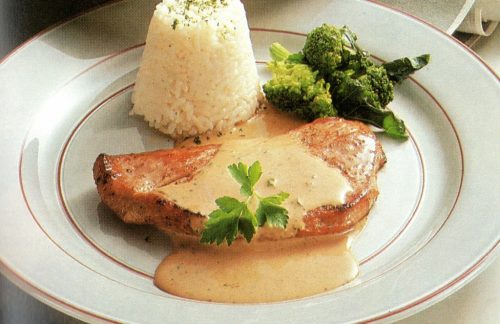 This chop is covered in a cream sauce, with lots of freshly ground pepper. Rahm is the German for cream.
Ingredients:
4 veal schnitzel (alternatively pork)
salt and pepper to taste
2 tbsp flour
2 tbsp clarified butter
1/2 cup white wine, dry
200 ml heavy cream
2 tbsp creme fraiche, optional
lemon pepper to taste
1 tbsp parsley, chopped
Preparation:
Tenderize the meat.
Spice both sides of the schnitzel with salt and pepper.
Dust a thin layer of flour on the meat.
Heat clarified butter, fry the meat on both sides for 4 min each side until it turns golden brown.
Remove from pan, keep warm.
Add white wine to the pan, stir with a wooden spoon.
Let simmer for a few minutes until the sauce has thickened.
Add heavy cream and creme fraiche.
Combine schnitzel with gravy, spice with lemon pepper and sprinkle with chopped parsley.
Serve with your favorite side dish such as fried or mashed potatoes, boiled rice or vegetables.




Photo source: Teubner und Eising, Koch Vergnügen Wie Noch Nie, 1987.