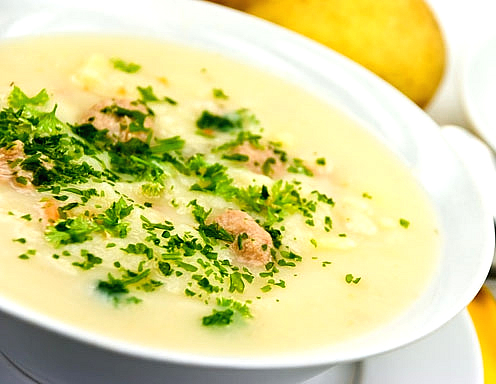 Fragrant with nutmeg and marjoram, this creamy potato soup gets a zesty kick from a grating of fresh horseradish root. After cooking, it's whipped into a smooth, airy froth.
Ingredients:
4 tbsp. unsalted butter
3 cloves garlic, peeled and crushed
1 small yellow onion, finely chopped
1/2 leek, white and light green parts only, cut into 1″ slices
1 1/4 lb. potatoes, peeled and cut into 2″ chunks
2 2/3 cups chicken or vegetable stock
1 1/4 cups heavy cream
1/4 celery root, finely chopped
2 tbsp. finely grated fresh or prepared horseradish
1 1/2 tsp. finely chopped marjoram
2 whole cloves
2 bay leaves
freshly grated nutmeg, to taste
salt and freshly ground black pepper, to taste
2 tbsp. finely chopped chives
caramelized onions, for garnish
Cooking:
Heat butter in a 6-qt. saucepan over medium-high heat; add garlic, onion, and leek, and cook, stirring, until soft, about 3 minutes.
Add potatoes, stock, cream, celery root, horseradish, marjoram, cloves, and bay leaves, and bring to a boil; reduce heat to medium-low, and cook, stirring occasionally, until potatoes are soft, about 30 minutes.
Season with nutmeg, salt, and pepper; remove from heat, and using an immersion blender, regular blender, or food processor, purée soup until smooth and frothy.
To serve, ladle soup into 4 bowls, and garnish with chives and caramelized onions.