May 7, 973
Death of the Emperor Otto I in Memleben, Germany. Otto became the German king in 936 and the Holy Roman Emperor in 962. He brought order to the empire, which was greatly fragmented, strengthened the position of the church, and made possible a period of prosperity and development of culture referred to as the "Ottonian renaissance".
May 7, 1523
Death of Franz von Sickingen in Ebernburg, Germany. A character in Goethe's play, Götz von Berlichingen, the historic Sickingen was a defender of the Protestant cause in Germany. His end came when he declared war on Richard of Greiffenclau, the archbishop of Trier and was defeated. After that defeat he gradually lost support and gradually all of his holdings.
May 7, 1824
Ludwig van Beethoven's 9th Symphony was publicly performed for the first time.
May 7, 1825
Death of the composer Antonio Salieri in Vienna, Austria. Salieri was brought to the imperial court in Vienna at age 16. He was a friend of Joseph Haydn and Ludwig van Beethoven. There is little historic evidence of the antagonism between him and Mozart as portrayed in the film, Amadeus.
May 7, 1833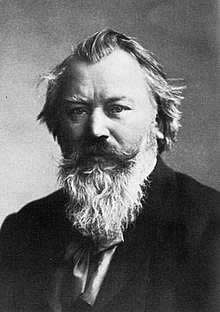 Birth of the German composer and pianist, Johannes Brahms (1833-1897), in Hamburg, Germany. Born in Hamburg into a Lutheran family, Brahms spent much of his professional life in Vienna, Austria, where he was a leader of the musical scene. In his lifetime, Brahms's popularity and influence were considerable; following a comment by the nineteenth-century conductor Hans von Bülow, he is sometimes grouped with Johann Sebastian Bach and Ludwig van Beethoven as one of the "Three Bs".
May 7, 1855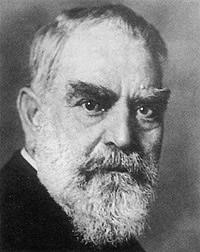 Birth of Oskar von Miller (1855-1934) in Munich, Germany. Miller, an electrical engineer, founded the Deutsches Museum of science and technology in Munich. He also founded AEG corporation. (Now a part of the Daimler-Benz group). In 1903 he fulfilled his dream of founding a museum devoted to science and technology — the Deutsches Museum. Miller had recruited widespread contacts for many years for such a museum. In Prince Regent Luitpold he found a patron who assured him also of national support. Famous scientists and entrepreneurs such as Max Planck, Hugo Junkers, Wilhelm Conrad Roentgen and Emil Rathenau advised him on the structure of the departments. In 1906 Emperor Wilhelm II laid the cornerstone of the museum complex in its current location on the museum island. Until the grand opening, which took place on von Miller's 70th birthday on 7 May 1925, smaller exhibits were set up in provisional rooms.
From 1918 to 1924 he was project manager in the building of the then-largest high pressure hydroelectric power station in the world, the Walchenseekraftwerk.
May 7 1887
Death of Carl Ferdinand Walther in St. Louis, Missouri, U.S.A. (born in Langenschursdorf, Germany). Walter was a highly conservative Protestant theologian. In 1839 he immigrated to Missouri, U. S. A. There, he founded the Missouri Synod of Lutheranism. He had gained his education at the University of Leipzig.
May 7, 1908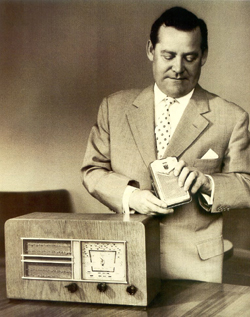 Birth of Max Grundig in Nürnberg. Max Grundig was the industrialist who founded the Grundig electronics company.
Back to Today in German History Calendar