Bertolt Brecht, The Man Who Put Germany on Stage
Eugene Bertolt Friedrich Brecht was born on February 10, 1898, in Augsburg, Bavaria. Brecht was an outstanding personality: a poet, a playwright, a theatrical reformer. An influential theater practitioner of the 20th century, Brecht made equally significant contributions to dramaturgy and theatrical production, the latter particularly through the huge impact of the tours undertaken by the Berliner Ensemble – the post-war theatre company operated by Brecht and his wife, long-time collaborator and actress Helene Weigel.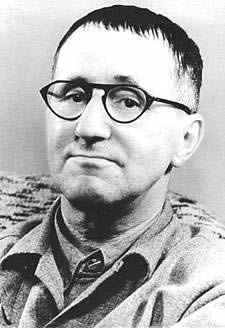 His success started with Trommeln in der Nacht (1919) and continued with the world-famous Die Dreigroschenoper (1928) which he created in cooperation with the composer Kurt Weill. This play proved to be Brecht's greatest work and was extremely popular with the middle-class public.
Mutter Courage und Ihre Kinder and Die Massnahme also contributed to Brecht's glory. The latter became the aftermath of his Marxist studies which began after 1926.
In 1930's Brecht's works and books were banned and even burnt in Germany, and he went into exile, first to Finland, where he lived as a guest of Finnish author Hella Wuolijoki, writing with her the play Herr Puntila und Sein Knecht Matti (1940) and making her jealous because of rumors of his affairs with other women. From Finland Brecht moved to the United States with financial help from his friend and fellow exile, Lion Feuchtwanger. Accused of his pro-communist leanings by the Committee on Un-American Activities, Brecht left the USA in 1947.
After the exile Bertolt Brecht went to Zurich where he created his theoretical work A Little Organum for the Theatre. Afterwards he moved to Berlin where he founded his own Marxist theater Berliner Ensemble.
In the middle 1950's the playwright was awarded the Stalin Peace Prize. His works were translated into 42 languages.




Author – Tatyana Gordeeva