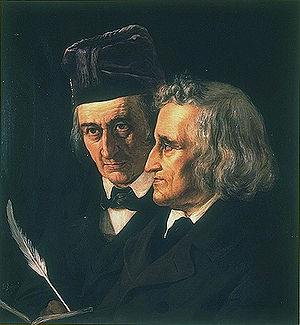 Have you ever heard about Cinderella, the Sleeping Beauty, the Snow Queen, the Red-Cap or Bremen Musicians? Of course, you have! It would be incredibly hard to find a person in Europe or even America who has never been told or performed these fairy heroes' stories.
All these stories are considered as German folklore heritage. Folklore are usually kept and distributed among close society limited sometimes just one village of a hundred people. However, most often its treasures reach the large social group and when it happens we can say it was due to talented and devoted persons who managed to collect and present the stories.
The Grimm's brothers belong to the team of such gifted and faithful representatives of German national folklore. Their desire and devotion to German cultural roots can be easily explained if we remind the biography of these two famous brothers.
Jacob and Wilhelm Grimms were born in the late eighteenth century and were grown up in the early nineteenth – the time when Germany was captured and threatened to lose its identity and original culture. The two brothers after gaining brilliant education at University of Marburg had a great desire to recreate German beauty in recording German language, legends and fairy tales. However, some stories were originated from the French folklore and interpreted by the Grimms in their own manner.
The desire was supported by forty tellers who managed to keep in their minds hundreds of stories born in ancient Germanic world. These tellers were all from plain families and resulted the creation of 'Children's and Household Tales' book comprised more that two hundred fairy tales in the last edition.
The initial aim to save German unique language, vocabulary and culture heritage had developed into integral part of daily life not just in German homes: fairy tales became bed stories for children from all over the world.