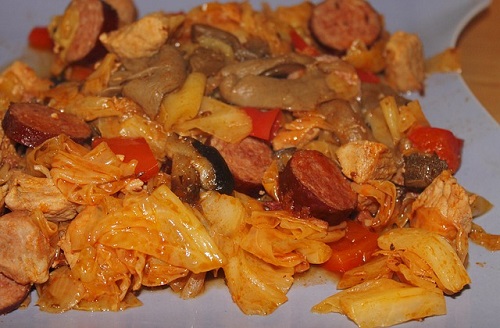 Ingredients:
1 to 2 tablespoons olive oil
12 links assorted fully cooked German sausages
1 large white onion, thin sliced
2 crisp red apples, such as Gala or Braeburn, cored and cut into 1 cm slices
1/4 cup apple cider
400 g sauerkraut
Directions:
Heat a 12 in. (30 cm) skillet over medium heat, and add 1 tablespoon oil.
Halve sausage lengthwise, if desired. Cook till browned and heated through, about 3 minutes a side. Transfer to plate, keep warm.
Add remaining tablespoon of oil to skillet, if necessary. Add onion and cook for 3 minutes. Add apples, stir, and cook till softened, 6 to 7 minutes. Stir in cider and cook 1 min. Add sauerkraut and heat till warmed through, about 2 minutes.
Transfer sauerkraut to warm serving platter and top with sausages.
Serve with pickles and assorted mustards.
Tip: Sausages and sauerkraut can be kept warm, covered, in a 250 degree oven for up to 1 hour.




Related Recipes:
Liverwurst
Bratwurst
Mettwurst
Classical German Sausage
German Sausage Soup