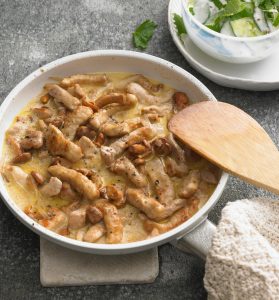 Geschnetzeltes is a popular German dish for the busy cook. A creamy sauce with pork, mushrooms and onions, it is traditionally served with Spätzle, cucumber salad or potatoes.
Ingredients:
0.5 kg lean pork, cut into thin strips
2 tablespoons extra virgin olive oil
1 small yellow onion, diced
300 g fresh white button mushrooms, sliced
3 tablespoons butter
3 tablespoons flour
1 cup whole milk
1 cup heavy cream
1 tablespoon sweet paprika powder
2 beef stock cubes
salt and pepper to taste
Preparation:
Heat the oil in a stainless steel skillet over medium-high heat and brown the pork on all sides. Transfer the pork to a plate and set aside.
Add the onions to the skillet, adding more oil if necessary, and saute until translucent and beginning to brown, about 5-7 minutes. Add the mushrooms and saute until tender, about 5 minutes. Transfer the onion mushroom mixture to pork and set aside.
Melt the butter in the skillet and whisk in the flour, continuing to whisk until the mixture is a rich caramel brown. Add the milk and heavy cream, whisking continually, until the mixture is smooth and thickened.
Add the paprika and crumble in the beef stock cubes and whisk until smooth.
Return the meat mixture to the sauce and bring to a simmer. Reduce the heat to low, cover, and simmer for 15 minutes. Add salt and pepper to taste. Add more milk if the sauce is too thick, or add a flour slurry to thicken.
Serve immediately with hot Sp

ä

tzle or fresh cucumber salad.