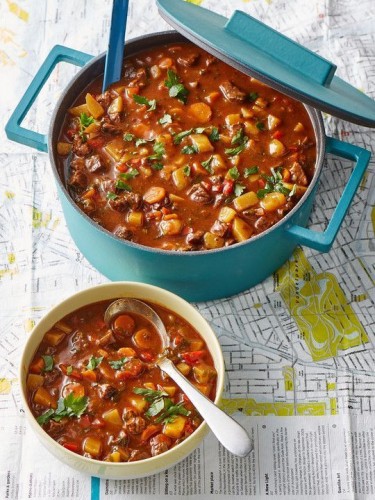 A perfect hearty dish for cold days! There are two types of Goulash in Bavarian cooking. There's the thicker stew with bigger meat chunks version ladled over wide egg noodles or rice. There's also this soup which is an offshoot of the stew but served with crusty bread or Brötchen (crusty white rolls). Both originate from Hungary but have been so fully incorporated into German cooking that they're now considered to be traditional.
Ingredients:
1 lb (450 g) stewing beef, cut into ¾-inch cubes
2 tbsp oil
2 onions, coarsely diced
1 garlic clove, crushed
1½ cups tomato juice
1 cup beef broth (feel free to substitute with 1 cup red wine)
1 tsp salt
1 tbsp sweet Hungarian paprika
2 – 3 potatoes, cut into 1-inch cubes
3 peppers, preferably different colors, cut into 1-inch pieces
salt, pepper, hot Hungarian paprika (optional)
Directions:
Heat the oil in a large pot. Brown half the meat. Remove meat and brown remaining meat. Return all the meat to the pot, adding onions and garlic.
Continue to cook on high for several minutes, stirring often.
Add tomato juice, beef broth, salt, and paprika.
Bring to a boil, cover, and reduce heat to a simmer. Cook for about 40 minutes.
Add potatoes and peppers. Cook for 15 more minutes or until the potatoes are tender.
Season with additional salt, pepper, and hot Hungarian paprika, if desired.
(Photo from http://www.chefkoch.de)