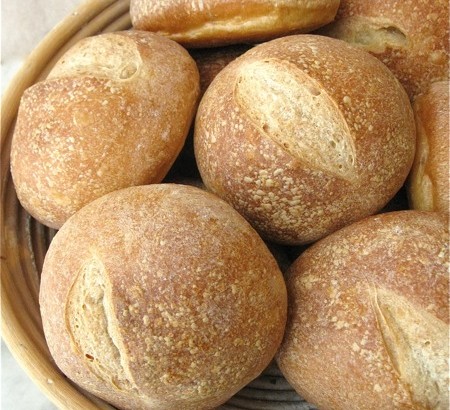 Brötchen is a small crusty roll that is cherished in Germany. It is also perfect for a sandwich or as a roll for a bratwurst. "Kipfen – Wecken – Semmel – Weggli – Schrippe – Feierabend Brötchen – Rundstück". These are all words for the very normal, white, small, round roll that you see in the breakfast bread baskets in Germany or Austria. Enjoy!
Ingredients:
Day 1
1/2 cup cool water
1 cup (4 1/4 ounces) all-purpose flour
1/8 teaspoon instant yeast
Day 2
3 1/2 cups (14 3/4 ounces) all-purpose flour
1 cup lukewarm water
1 1/2 teaspoons salt
1/4 teaspoon instant yeast
For the egg wash:
1 large egg
1/2 cup cool water
Method:
First, make a starter. Put the ingredients of Day 1 in a bowl. The same bowl you'll use the next day to make the dough is a good choice. Mix until well combined. Cover and let rest at room temperature overnight.
Next day (8 to 12 hours later) add the ingredients of Day 2 to the starter in the bowl. Mix everything together until cohesive. Then knead for about 7 minutes (at medium speed in a stand mixer). Knead about 10 minutes by hand. Your goal is a soft, somewhat smooth dough; it should be cohesive, but the surface may still be a bit rough. It may also stick to the bowl just the tiniest bit.
Place the dough in a lightly greased bowl. After 1 hour, it will have barely risen – the 3/8 teaspoon yeast in the recipe is working slowly. But that's OK, we want it to, because we're giving this dough a long rise. Gently deflate the dough, and return it to the bowl.
Wait another hour, deflate the dough again, and return it to the bowl. Wait 1 more hour (for a total of 3 hours since you started).
Turn the dough out onto a lightly greased work surface. Divide it into 12 pieces. Shape the pieces into balls, firming them up by rolling them under your lightly cupped fingers. Place the rolls on a parchment-lined baking sheet, cover them with a damp cloth, and let them rise for 1 to 2 hours, until they're puffy, though not doubled in size.
Preheat the oven to 425°F (220°C).
Whisk together 1 large egg white and 1/2 cup cool water until frothy and brush the rolls with the wash.
Quickly slash the top of each roll. The cut should be about 1 cm deep. Immediately put the rolls into the oven.
Bake the rolls for 20 to 25 minutes, until they're a deep golden brown.
Remove them from the oven, and cool on a rack. Or, for best crunch, open the oven door, and allow the rolls to cool in the turned-off, open-door oven.
Related articles:
Weizenbrötchen – German Rolls
German Brötchen