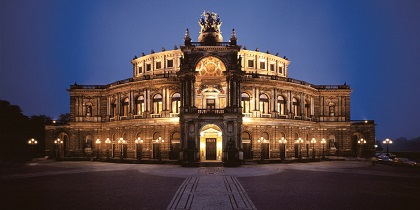 Dresden Theaterplatz is the heart of tourists' pilgrimage. First of all the place is famous for sightseeing tour which may take long hours to value enough the beauty of Zwinger, Schinkelwache restaurant with amazing history, Gallery of the Old Masters with world-famous masterpieces gathered from all over the world, Hofkirche Church and the heart of Theaterplatz which can be called the purpose of tourist visiting and excursions- Semper Opera House.
This place is greatly valued by theater-goers, musicians, culture and history scholars. Each visitor can find a fruitful source for his curiosity no matter what interests he has: the Opera building marvelous architecture is an excellent example of Renaissance, however the primary building was constructed in Baroque style.
The reconstruction was needed several times – after the fire in the 19th century and the World War II.
The first architect and designer of the building was Gottfried Semper. Actually, Semper was inspired to construct other buildings on Theaterplatz which also became Dresden world-famous sightseeing – his Japanese Palace rooms partially saved after the war, reconstructed later and serving now as the rooms of the State Museum of the Early History. His inspiration was drawn from his study in Italy when he admired Roman ancient architecture and dreamt to brighten up the colorful and fairy atmosphere of ancient Rome on his native land.
His Opera House work was found so successful and impressive that Opera House obtained the name of its author.
Besides architecture the Opera House became world famous due to classic music performed there. Initially the opera orchestra played Richard Strauss's works and, therefore, gained huge audiences and its well-known name – Semper Opera House.
Now the Saxon State Opera orchestra and chorus are bringing fame to the opera and attract visitors by wonderful beauty of the classical sounds.
Although Semper Opera House is the heart of the Dresden's Theaterplatz you cannot feel and know Germany without tasting delicious national food prepared with old recipes available at Schinkelwache restaurant.
The wonderful dinner can be excellent conclusion of your day tour to Hofkirche Church and Gallery of the Old Masters where German and World history, music, architecture, painting and famous people lives come together.




Related articles:
Free State of Bavaria – Travel Destination
Berlin – the City of Great Changes
Bremen – the City of the World-Famous Fairytale Musicians
Hamburg – European Melting Pot
Saxony – a Crossroads of European History, Culture and Art