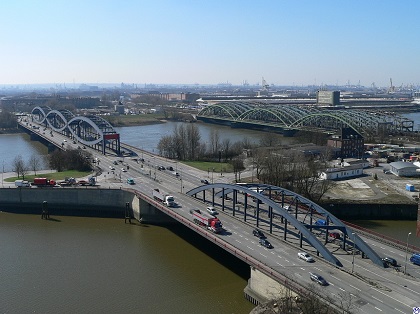 Over the years Hamburg is well-known city all over the world and the main reason of such popularity is its famous incredibly huge harbor. Hamburg harbor can be called its 'gates' providing both commercial and cultural prosperity of the city.
Serving the country as the European entry for centuries Hamburg harbor inhabited city with thousands of immigrants from various countries and created extraordinary melting pot.
Hamburg visitors can smell Asian spices, attend European modern clubs and discos, listen to the music originated from hundreds of nationalities.
While being quite international city Hamburg is a symbol of German history where historical building aged a few centuries share the area with glass- and – concrete multi-storied buildings.
Walking along St.Pauli and numerous small streets hamburg visitors can feel medieval atmosphere of expressive, living and fortified German city of middle ages.
But it's always better to see than to hear! You can start your virtual tour around Hamburg right now by viewing its panorama and visiting historical museums.
Hamburg takes its name from the first settlers of the 8th century. Saxon word 'ham' is translated as 'river bank' into English. But the port was established on harbor just in 19 century and became the international entry to Hamburg.
St.Pauli street called 'Hamburg Mountain' is the most famous tourist entertainment place containing almost all possible amusement and relaxation means ever invented by humans. The international mixture of its inhabitants creates original feeling of visiting the whole world in one place: clubs, bars, restaurants, discos, shops and street performances demonstrate cultures originated from east to west and from north to south.
Other places worth visiting:
Rathaus a fantastically huge town hall now serving as government building. It still remains its 19 century interior.
St. Michaelis Lutheran church providing fantastic view of the city from its tower.




Want to know more about Hamburg sightseeings? Get a list of all places of interest together with their pictures!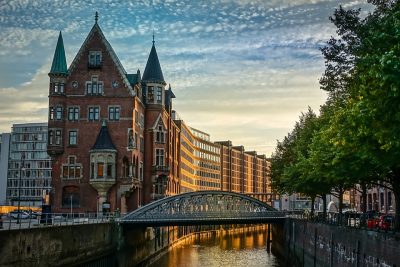 The Speicherstadt in Hamburg, Germany is the largest warehouse district in the world where the buildings stand on timber-pile foundations, oak logs, in this particular case. It is located in the port of Hamburg—within the HafenCity quarter—and was built from 1883 to 1927.
Hamburg City Hall is the seat of local government of the Free City of Hamburg, Germany. The Rathaus is located in the Altstadt quarter in the city center, at the Rathausmarkt square. Constructed from 1886 to 1897, the city hall still houses its original governmental functions with the office of the First Mayor of Hamburg.
Deichstraße is the oldest remaining street in the Altstadt of Hamburg.
Deichstraße dates back to the 14th century; it was first mentioned in 1304. It now contains carefully restored 17th–19th-century houses, all that is left of the old harbour district.
Related articles:
Free State of Bavaria – Travel Destination
Berlin – the City of Great Changes
Bremen – the City of the World-Famous Fairytale Musicians
Dresden Semper Opera House
Saxony – a Crossroads of European History, Culture and Art