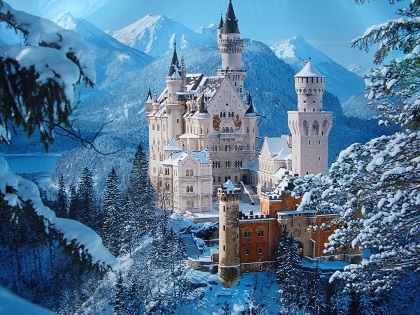 According to library definitions the word 'castle' means 'fortified building constructed for security and residential purposes. The German 'burg' (German "stronghold") means the same.
German castles vary in architecture and design considerably. It can be explained by varieties of traditions and cultures developed and kept in different counties of German lands. But there is one thing which unite all of German castles: their unique medieval beauty carrying visitors to the Germany of the Middle Ages. Medieval knights and kings returned from wars, campaigns and crusades and brought the traditions and views seen in strange lands into their houses, families and daily life. Therefore, castles were reconstructed, redesigned with usage of various materials and evolving different styles.
During your castles tour in Germany you will not be bored discovering every castle unique and not alike to any one you have already seen. German castles reflect not just their owners experience but each land traditions either. You will find Bavarian castles which differ in style and size from castles along Rhein river or castles in South lands. This brief historical tour can't help you catching hunger of viewing castles in Germany.
The Wartburg Castle is located in Thuringia land and is one of the oldest castles in Germany. It celebrated its 938th birthday this year and has a very unique construction featured by Romanesque architecture. The castle history is closely connected with such famous Germans as Martin Luther and Duke Ludwig der Springer. There is a legend that Martin Luther made his Bible translation while staying in the Wartburg castle which inspired him the ideas of harmony, morality and peace in germany.
Neuschwanstein Castle is located in Bavaria and was not completely constructed by the King Ludwig II. This castle is famous for its fantastic views opening from the bridge and the walls. The visitors can enjoy wonderful views of Alps for hours!
Schwerin Castle architecture united styles and elements of almost all medieval centuries. Its construction development was considerable influenced by the castle function changed every century: from Slavic tribe fort in 10th century to Bishop's set in 12th century.
Linderhof castle is much younger than previous castles and, therefore, its architecture mixed just two styles: Renaissance and Baroque.
Heidelberg is located in Palatinate land. It can easily be seen due to original structure made of red sandstone. Many tourists say that walking around the castle can inspire even ordinary people to create masterpieces.
Lichtenstein castle gained its fairy and wonderful view a long time after its building. The initial purpose of the castle setting was fortification. It possessed the original beauty due to the tower building constructed hundred years later than the castle was built.
Herrenchiemsee Castle construction was inspired by the French Versailles and its constructor, King Ludwig II, was going to build the castle as large as the French royal palace. Their ideas were realized partially: the castle was the largest among the others, but its size was far smaller than Versailles. The King's intentions were reflected in the castle's design which featured with French gardens and a huge number of mirrors in the rooms.




Related articles:
Augustusburg castle – the German Heritage
Wartburg Castle- the Place of Luther's Inspiration
Neuschwanstein Castle
Lichtenstein Fortress