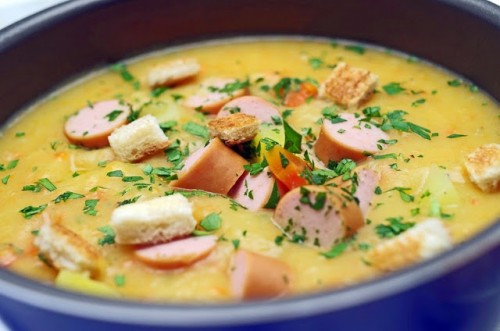 Food in Swabia is world renowned and is often described as very hearty and rich in tradition. Recipes have been handed down from generation to generation. They often only include a few ingredients or they are a combination of multiple recipes. Much loved by the Swabians are soups. There are many variations of soups, many of which include pasta and/or wurst. This love of soup has given them the name "Soup Swabians (Suppenschwaben)."
Ingredients:
1 pound uncooked potatoes, peeled and diced
3 carrots, diced
2 tbsp. butter
1 onion, finely chopped
2 tbsp. flour
8 cups of beef broth
salt, pepper
2 slices of bread
4 Wiener Würstchen (Frankfurters)
chopped parsley
Preparation:
Melt butter in a pot and add onion, parsley, potatoes and carrots. Let it cook for about 5 min.
Add flour and give it a stir while cooking it for a few more minutes.
Now it is time to add the broth. Let it cook for another 20 min.
While still on the stove, puree the soup finely with an immersion blender.
Add salt and pepper to your taste.
Cut bread in small cubes and toast it in a frying pan in some butter (you can use salad croutons instead). Cut sausage in small pieces and add to soup. Garnish with some parsley.