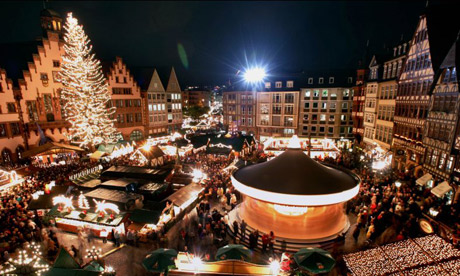 Christmas is a family holiday which people use to spend at home waiting for Santa Claus near the friendly crackling fireplace, the smartly decorated tree, and a festive table. You have already imagined this paradise, haven't you? However, a simple test will help you verify your real intentions as for Christmas:
1. Does your soul get restless every time you hear about the faraway lands and adventures?
2. Are you attracted by the idea of celebrating Christmas in a fairy-tale-like hotel somewhere in the heart of Germany?
3. Would you like to surprise your friends and yourself?
4. Do you want to improve your German?
5. Are you a good mixer?
6. Would you like to sing the most traditional Christmas carol, "Silent Night", among the people for whom its 180th anniversary is a real festival?
7. Do you like professional service and comfortable lodgings?
8. How about having great fun???
Now count your "Yes" and "No".
(1) If more than half of your answers are positive, hurry up and pack your bag. We are Germany-bound!
(2) If you mostly answer "No", enjoy your quiet warm house and a Teddy bear under the Christmas tree.
(3) If there is the same quantity of positive and negative answers, it's no problem! Look through the following information and make up your mind. There is still enough time.
There are great possibilities for traveling in Germany. Destination Germany is a great place to start from. Here you will find the general info on the Federal Republic of Germany, accommodation offers, car rentals, flights, and much more useful information.




Related articles:
Free State of Bavaria – Travel Destination
Berlin – the City of Great Changes
Bremen – the City of the World-Famous Fairytale Musicians
Dresden Semper Opera House
Hamburg – European Melting Pot
Saxony – a Crossroads of European History, Culture and Art